Local authorities need more power and stronger leadership to reinvigorate town centres in England and Wales, the latest report on the state of the high street by veteran retailer Bill Grimsey has warned.
The updated version of his 2013 review also argued it is time to recognise there is "no confidence" in the business rates system as an "outdated and unfair tax" that is accelerating shop closures.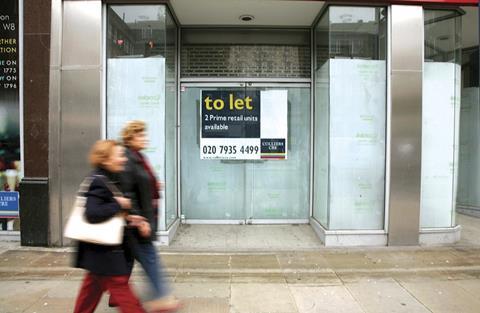 The recommendations are two of 25 made in the independent report compiled by the former Focus, Iceland and Wickes boss and a team of specialists with property, town planning, data and digital expertise.
While Grimsey said urgent action is essential to avoid some town centres becoming ghost towns, he thinks there is a greater political will to enact change now.
The review team met Jake Berry, minister for the Northern Powerhouse and local growth, whose responsibilities include high streets.
"He was approachable and he is definitely onside," Grimsey told Retail Week. "He definitely sees community as the way forward. He will make things happen."
There are signs that the Government may be beginning to take the situation facing retail seriously, says one senior retailer, who said: "There is an emerging willingness but the Government is so caught up in Brexit; there has to be life after Brexit."
Many of the recommendations reflect the conclusions of its predecessor but there are several key differences.
The new report called for landlords to be both penalised and incentivised over properties left vacant for more than six-12 months, while at the same time making it easier to apply for a change of use through new legislation.
It also suggested the creation of a landlord register so authorities are able to trace the owner of every building.
That supported the review's key recommendation, also the central plank of the original report, that town centres should be restructured as community hubs that include a variety of uses including housing, health and leisure, entertainment, education, arts, business and office space, and a reduced number of shops.
This should be supported by free public Wi-Fi and well-connected work places for flexible workers.
The report also called on BT and Virgin Media, the major beneficiaries of £150m of Government funding for 'superconnected cities', to offer packages to small towns too.
Town centre rethink
Jonathan De Mello, head of retail consultancy at property advisers Harper Dennis Hobbs, said as retailers move to out-of-town locations there is potential for people to move back to town centres.
Allowing easier change of use would facilitate that, he said.
"That is the way the market is moving. Town centres are becoming places to spend time in, and that requires a food and drink offer and experiential retail. Having people living there too would be a good thing," he added.
The review, like its predecessor, recommended the formation of town centre commissions, under local authority leadership, to create 20-year strategies that would help towns to build on what makes them unique.
"As a nation we must give every high street and town centre the best possible chance to flourish"

Bill Grimsey
It called for a new national organisation, similar to the Scottish Towns Partnership, which would help the commissions to access information such as investment models, case studies and research.
It also recommended other changes to planning legislation at local level to give authorities the power to make the right decisions for their towns.
"Central government needs to enable local authorities to do that," Grimsey said. "We have parish, district and county councils all with remits and responsibilities, and owning different parts of the public realm.
"We need a radical new form of localisation and Westminster needs to create a policy to facilitate that."
Action is needed at speed, one of the review's co-authors, property expert, Matthew Hopkinson said.
"We need to grasp it now as down the line it will get harder and harder to create these community hubs," he argued.
"We have a cracking opportunity to act but we have to act together, and to do that everyone needs to stop being adversarial. We need to leave politics and egos at the door."
The report is being formally launched at today's Local Government Association annual conference.
Former John Lewis managing director Andy Street, now mayor of the West Midlands, welcomed the study, which he said reflected a "combination of business experience, rigorous research and creative thinking".
Grimsey said: "The first six months of 2018 have seen the highest rate of retail closures, administrations and CVAs for more than a decade and there is no sign of a slowdown.
"Our cities, towns and communities are facing their greatest challenge in history which is how to remain relevant, and economically and socially viable in the 21st century.
"As a nation we must give every high street and town centre the best possible chance to flourish."
Forget Westminster, save the high street at local level
1

2

Currently reading

Second Grimsey review calls for action to avoid ghost towns

3