After six years of 'Try Something New Today', Sainsbury's has tried something new and come up with a new strapline – 'Live Well for Less'.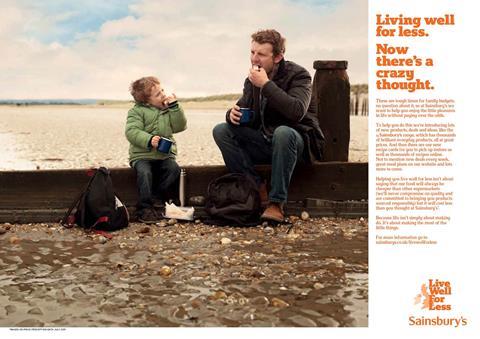 The move takes the grocer to the next stage. 'Try Something New Today' was launched during its recovery and was all about getting customers to try the grocer again. Now it wants to move on. In short, Sainsbury's is trying to tell customers they can get the products they want at the prices they want without sacrificing their values.
The strapline is backed by an ad campaign – created by AMV BBDO with media planning by PHD – telling customers to enjoy the little things in life.
The ad campaign hits the right tone as it shows a father enjoying time with his son. With less money in their pockets, customers can't splash out but still want to be able to enjoy life's niceties. Being reminded of simple pleasures like spending time with your children does just that.
The strapline goes further and pushes customers to think about
the values Sainsbury's stands for.
A good move, but will it work?
Sainsbury's has excellent food credentials but is sometimes perceived as more expensive than its rivals and that is what the grocer wants to change.
'Live Well For Less' gives Sainsbury's an instant price message. It is similar in its message to some of its rivals – Tesco's 'Every Little Helps' or Asda's 'Saving You Money Every Day' – but that isn't necessarily a problem. In this climate, every grocer needs a price message.
It's a bold move for Sainsbury's, but as it parts ways with Jamie Oliver after 10 years, it's the right one.