Sainsbury's spent £4.1m in marketing last month as the retailer was the only one of the big four grocers to increase market share.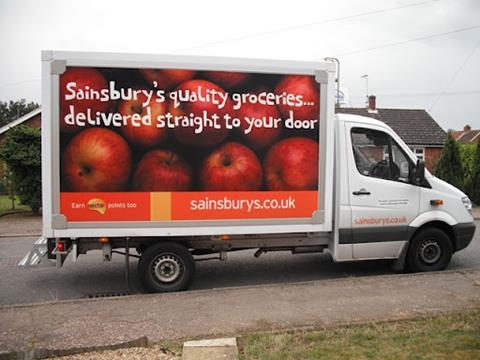 Sainsbury's spend was the largest of the top 10 grocers with a 37% increase on last year ahead of Asda, which spent £3.7m on advertising, a 35% increase on last year, according to Nielsen.
Sainsbury's sales increased 1.6% in the four weeks to February 1 and its market share edged up to 17.1% from 17% last year.
Aldi was the strongest performing grocer with sales up 37.3% in January and its market share increased to 4.9%from 3.6% last year.
Morrisons' sales fell 3.6% and its market share fell to 11% from 11.6% last year. Tesco's sales fell 1.9% in the month and The Co-op's were down 0.8%.
Marks & Spencer's food arm recorded a 2.4% increase in sales and its market share was flat at 3.3%.
Nielsen's UK head of retailer and business insight Mike Watkins said: "Despite the improving economy, UK consumer confidence actually dropped in the final quarter of 2013, indicating that it's a shallow recovery in shoppers' minds.
"Over half of consumers report switching to cheaper grocery brands to save money, so the record levels of January rainfall may have further dampened shoppers' spend at a time they're already actively cutting costs."
Watkins added: "Without a big upturn in advertising spend to offset consumer cost-cutting and the poor weather, we saw lower sales than a year ago in terms of both money in the till and units sold. The former is also partly due to the discounters such as Aldi and Lidl continuing to be the fastest growing supermarkets."
| TOTAL MULTIPLE GROCERS | 12 W/E 01 FEB 2014 | 12 W/E 02 FEB 2013 | % sales change |
| --- | --- | --- | --- |
| TESCO | 28.2% | 29.1% | -1.9% |
| SAINSBURY | 17.1% | 17.0% | 1.6% |
| ASDA | 16.5% | 16.8% | -0.1% |
| MORRISONS | 11.0% | 11.6% | -3.6% |
| CO-OPERATIVE | 5.3% | 5.4% | -0.8% |
| WAITROSE | 4.9% | 4.6% | 7.9% |
| ALDI | 4.9% | 3.6% | 37.3% |
| LIDL | 3.6% | 2.9% | 23.0% |
| MARKS AND SPENCER | 3.3% | 3.3% | 2.4% |
| ICELAND | 2.3% | 2.3% | 2.0% |