Following the launch of the safety Accord, US retailers have formed an alliance to tackle factory conditions in Bangladesh.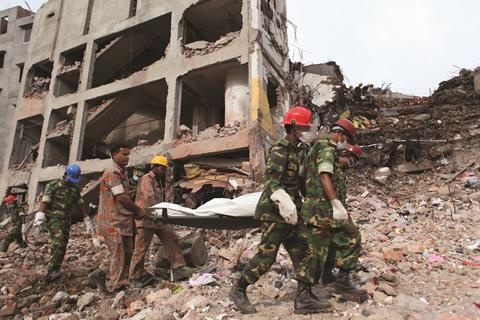 Why are we talking about this now?
Last week, 17 US retailers including Walmart, Target and Gap revealed a plan to improve factory safety in Bangladesh. The Alliance for Bangladesh Worker Safety will set common safety standards, commit to inspecting factories and provide loans for repairs.
The US alliance is an alternative to the Accord on Fire and Building Safety in Bangladesh, which was agreed two months ago by international retailers, mostly from Europe. Both programmes come after 1,129 people died in the Rana Plaza factory collapse on April 24.
What are the main differences between the two agreements?
The US alliance has committed to spend $42m (£27.9m) over five years on inspections, training of inspectors and workers and the creation of workplace councils. Some retailers have offered $100m (£66.5m) in loans to help towards factory safety improvements.
The European Accord states retailers will contribute a maximum of $500,000 (£332,600) for five years to fund the activities of a newly created steering committee, safety inspector and training co-ordinator.
Trade union coalition IndustriALL, which set up the Accord, attacked the US plan as a "toothless corporate auditing programme", and said it fell short of the Accord's stipulations.
The Accord has been signed by retailers and unions and is governed jointly, whereas the US programme appears to have no involvement from unions so far, although it states that retailers aim to create a stronger relationship with the Bangladeshi government and will work with industry groups and worker rights organisations in the future. A key difference surrounds enforceability - the Accord is a binding agreement whereas the Alliance does not clarify this point.
Is one better than the other?
Both plans represent unprecedented steps in attempting to improve worker conditions in Bangladesh. Comparing them is difficult. Mike Flanagan, chief executive of fashion sourcing specialist Clothesource, argues the legal binding and union involvement are two notable differences. "The legal underpinning is important as US retailers are less committed to Bangladesh. They believe Vietnam is a developing alternative, while European retailers are more bound to Bangladesh due to the import system," he says.
However, he observes: "There have never been any worker complaints in Bangladesh regarding conditions through unions so there is not a shred of evidence that makes a difference."