The scramble for sales has made some forget that a profit still needs to be made. John Ryan considers the implications of this year's top shopfitters league table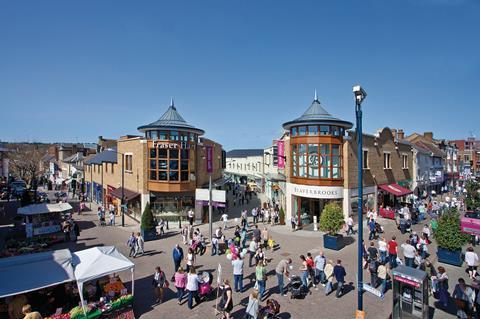 Turnover is vanity, profit is sanity." The origins of this one are obscure, although it is frequently trotted out as the 'banker's mantra', but it's a fair bet that more than a few of the companies listed in this year's Retail Week top shopfitters league have paid it scant attention. Or perhaps they have, but circumstances are such that they've been forced down a particular route and the outcome has been little short of disastrous.
Take any spreadsheet, and whether a loss is printed in red, has brackets round the figure or just has a minus symbol preceding it, it does have a nagging habit of jumping out at you from the page. And sad to relate, eight of the going concerns that appear in the table posted a loss for 2010 – something not seen since this table first appeared almost a decade ago.
George Morris, chairman of Glasgow-based Morris & Spottiswoode, which remains in the top five as far as sales are concerned, paints a bleak picture: "The tender market is absolutely shocking. There is nothing to be happy about at the moment. People talk about things improving in a couple of years, because they really can't and don't want to see beyond that. This could be a very, very slow recovery. Anything else beyond that and I'd ask for it to be demonstrated."
Gloomy indeed, although it is pertinent to note that with a business that garnered nearly £85m last year, the route to the poorhouse is not obvious for Morris & Spottiswoode.
More for less
The eye automatically strays, however, to the top of the league. Styles & Wood is toppled from the top of the table to fourth place. This in itself is not entirely a surprise. This was an enterprise that posted sales close to £250m a few years ago, since which time it has undergone a precipitous decline as framework agreements have come under attack and the tendering war that characterises the sector currently, has become entrenched. There have also been management changes, downsizing and a somewhat tarnished reputation to contend with. All of which might lead you to look across the page to what is surely the most telling point: the profit column.
On a turnover just shy of £100m, the company realised a profit of £100,000. Put another way, the margin on achieved turnover is 0.01%, a figure that even in these straitened times, most would pull a face at if this were the interest offered on an investment of this magnitude. Now trip lightly to the bottom of the table and A Edmonds shows that the adage at the beginning of this piece still holds good. A retained profit of £300,000 on a turnover of less than £5m equates to a return on capital employed of 6%, a figure that would bring a smile to the faces of investors in the current climate.
In fairness, the two are chosen because they represent extremes, but it is reasonable to say that those just keeping their heads above choppy waters outnumber companies showing a decent return by a considerable margin. The reasons for this are complex and do vary from shopfitter to shopfitter, but speak to a few of those in charge of these companies and some themes do show a marked tendency to recur.
In no particular order then, these seem to be the economy, the economy and retailers' reactions to it. This is all about trickle down and as Helen Bunch, managing director at Wates Retail, observes: "The retail market is changing because consumers are changing. There will be fewer shops, but what we're coming up against are customers [retailers] wanting everything quicker, faster and cheaper." She notes that compared with 2008, in the depth of the last recession, "capital expenditure on retail continues to be significantly down".
And if retailers do want more for less, at what point are the pips squeezed to the point where there's nothing left to give? The answer is currently unclear, as there appears to be a number of shopfitters and associated suppliers who are prepared to work at below cost in the hope that they can buy time with turnover and that somehow, at some point, the profit will come good. But as Bunch says: "Turnover does give you a bit of oxygen for a while, but if you're consistently tendering below cost you will finally come up against the wall." Wates Retail did not make a profit during the course of 2010, but it was at least close to break-even.
Large projects decline
Which brings into focus the phenomenon of some of the sector's less scrupulous operators hitting the wall during 2011, going into voluntary liquidation and then reopening as more or less the same outfit – minus unwanted creditors – very shortly afterwards. It's an unattractive habit and one that does nothing to improve the image of the industry as a whole.
So if Bunch is correct and there will be fewer new-build units in future, are there still more shopfitters than there are jobs and interiors for them to work on? Certainly, large projects that will make a shopfitter's entire year are on the decline. Wates Retail has just completed its role as lead contractor on one of the UK's more high-profile new stores, John Lewis at Stratford. The work has involved it working and project managing the work of A E Hadley, Interserve, Vizona and SGi, but work of this kind is thin on the ground and now that Stratford is up and running, this appears to be even more the case.
There are those, however, who remain upbeat. Look at the results for Alan Nuttall for the latest filed financial year and sales at £35.5m have fallen 27%, resulting in a loss of £1.3m. This is not the kind of thing that can be sustained for any protracted period and the report brands the year to May 31, 2010, "very disappointing". Yet speak to the eponymous Alan Nuttall, chairman and founder, and the picture is not quite as black as might have been surmised from the figures: "Our difficult times were four, three, two and one year ago. What we should have done was downsize a bit. But we didn't and then we lost Dixons and that made things very difficult."
Nuttall says that since the downturn there has been a concerted effort to invest in new equipment: "We did a lot during that period and we still have nearly 500 people working for us. I'm confident that what we've done is going to keep us here." Like Bunch, Nuttall sees fewer shops in the future and that the "high street is doomed unless bigger retailers move in". He adds that for shopfitters this means heading overseas may be one avenue that needs to be more fully explored: "The way the pound [sterling] is, there are opportunities for export. Some of the more technical things, like food cabinets, represent an opportunity for us."
Nuttall's statement exposes the great divide that remains in UK shopfitting between companies who fit-out and those that manufacture and shopfit. Put differently, in recent years the manufacturing arm that forms part of many shopfitters' assets has frequently been regarded as a hungry mouth and something that has the capacity to drag an organisation under.
It is possible, however, that this may be changing providing new plant, such as that at Alan Nuttall, has been installed and currency remains benign for UK exporters. It is worth noting that in Europe most of the largest shopfitting concerns remain relevant worldwide because they have invested in manufacturing to the extent that many of the shop equipment factories they operate are staffed almost entirely by robots. Even with the disadvantage of being part of the eurozone, where the currency has worked against exporters outside the zone, the quality of what has been produced appears to have ensured continuing business for the likes of Schweitzer, Vitra and Umdasch, among others. This must be salutary news for UK shopfitter Kleerex, which joined forces with Euro outfit New Store Europe in March with the aim of becoming a force across the continent.
Back home, though, are things really as overcast as some of the results might lead the casual observer to believe? Robert Hudson, director at the National Association of Shopfitters, says the shopfitting sector is on a knife-edge. "Are we, as a sector, guilty of buying work, or are clients guilty of taking advantage of the fact that there is too little work out there?" he asks. Hudson says times ahead may be tricky for smaller companies if banks decide to look at balance sheets and pull the rug from under those that are not making any money. He also comments that the "easy part is getting the order. Getting paid is the issue". Extended payment terms and delays to processing invoices are the bane of many smaller businesses in the UK, but the increase in litigation involving payments during 2011 would seem to indicate that liquidity may be a problem for shopfitters for the rest of this year.
Equally, Brendan Boyd, managing director of Patton Fit-out, says 2012's Olympic Games may mark a turning point. "Next year looks set to be the reverse of this year where the industry took six months to get going and looks very good right through to mid 2012. What is then uncertain is the workload post-Olympics."
But he adds: "Retail refurbishments have a steady workload and vacant properties being purchased by other retailers are on the increase."
Nothing is very clear then and, depending on which shopfitter or retailer you listen to, it's either deep depression or a case of business, as it now is, more or less as usual. Manufacturers and exporters may seem to have the edge over those companies that effectively provide shopfitting project management services, but even here there is little certainty. Expect to see many more changes in the table when it comes to be published next year. Cash is king and profit will remain sanity.
Still a player
Styles & Wood dominated the shopfitters league for years and there were times when it seemed as if every other player in the upper reaches of the table was an also-ran. Now that has changed and it is in fourth position, but this still makes it a very large company. Tony Lenehan, who has been chief executive since January, believes that future growth and recovery will be dependent on tendering for the right jobs at the right price. "In core retail, there's definitely a real challenge to make sense commercially of the work that's out there," he says. "You have to be selective." High-end luxury retailers and modular, commoditised food retail work are the areas that Lenehan says have the greatest chance of yielding a profit, particularly as retailers are "getting better" at procurement in areas that they might traditionally have outsourced.
He sees change ahead: "Short- to medium-term, there will be a need for shopfitters to have more than just labour and capacity. This will have to be complemented by design and technical know-how. Putting 100 people onto a job the day before handover will no longer be enough to get a project over the line."
Top of the league
ISG heads the table for the first time. Sales increased in the year to June 30, 2011 by 53% to £321m, which was also the highest figure recorded by a shopfitting operation in the nearly 10 years that this survey has been running. Profit wise, things were not quite so spectacular, but it is still difficult to argue with a 35% profit hike given the state of play across the sector and the paucity of large projects.
ISG has achieved this not just by offering an attractive proposition for retailers, but also by an aggressive takeover strategy that has seen the company swallow some of shopfittings biggest and best. The difficult bit will be maintaining this level of business in the forthcoming year, but the signs look positive.
It seems likely that ISG may be at the top of the table once more in 2012.