John Lewis wins both the Postcode Anywhere Multichannel Retailer of the Year and the Nasa Marketing/Advertising Campaign of the Year.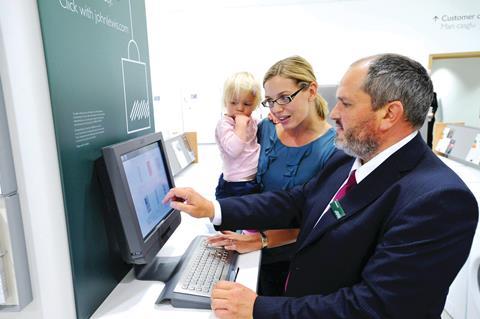 The Postcode Anywhere Multichannel Retailer of the Year
Whille many retailers are making great strides with their multichannel strategies John Lewis, it seems, is still ahead of the game.
It was an early advocate, beginning its multichannel journey in earnest in 2008. Since then, its success has been well documented.
But rather than resting on its laurels, the retailer continues to innovate and for the second year in a row it has been awarded the Postcode Anywhere Retail Week Multichannel Retailer of the Year award.
As one judge commented: "It just keeps investing and moving forward. The service levels are fantastic. It is doing a standout job and it's absolutely seamless."
'The service levels are fantastic. It is doing a standout job and it's absolutely seamless'
The statistics speak for themselves. In April last year, the retailer surpassed its £1bn online sales target over a rolling 52-week period, a year earlier than planned. Its click-and-collect business is going from strength to strength with more than a third of all online orders collected in John Lewis or Waitrose stores.
Mobile now accounts for more than 40% of traffic to Johnlewis.com and traffic is up more than 115% year on year.
Mobile has been one of John Lewis' biggest success stories in the past year. The retailer revealed that three quarters of Christmas Day online traffic came from phones and tablet computers.
John Lewis has redeveloped its mobile app and improved its mobile site, including better highlighting its promotions, better navigation, and improved product images.
It also launched its new iPad app in the autumn of last year, and unveiled a new £40m web platform.
Staying ahead of the pack means setting big goals, and John Lewis aims to make 40% of sales online by 2020.
Convenience is essential for shoppers and the retailer has expanded its click-and-collect service, meaning 78% of households are within a 40-minute drive of a John Lewis click-and-collect point. To extend its reach even further, in September it began a trial to offer collection services through delivery service Collect+.
In 2012, John Lewis launched its first small full line department store in Exeter. The flexible format allows the smaller shop to offer the range of its largest stores by effective use of technology.
More recently, over the Christmas period transactional tablets were tried out in three stores - John Lewis Cheadle, John Lewis Brent Cross and Peter Jones in Sloane Square - enabling shoppers to buy direct from assistants on the shopfloor.
John Lewis has demonstrated that a successful multichannel strategy can be good news for shops - store sales rose 3% in the first half of 2013. The retailer says its omnichannel success is rooted in its shops and it continues to give customers multiple reasons to visit its stores.
Postcode Anywhere
If you've ever bought anything online and typed in your postcode to get your address - then the chances are that you've used Postcode Anywhere. As one of the leading providers of address management services, Postcode Anywhere works with some of the world's largest (and smallest) retailers to increase conversion rates, improve customer experience and make ecommerce easier from sign-up to delivery.
The company now accounts for more than 50% of all addresses captured through UK ecommerce websites, including the likes of Tesco, Fiat and Hotel Chocolat. Postcode Anywhere's web-based services integrate seamlessly with software applications and websites in minutes.
The nasa Marketing/Advertising Campaign of the Year
John Lewis' 2012 Christmas advertising campaign, The Journey, was the most interactive campaign John Lewis had created. The advert told the story of a snowman who crossed fields, mountains and motorways to find the perfect present for his beloved snow-woman.
The Journey, created by advertising agency Adam&EveDDB, was set to a version of Frankie Goes to Hollywood's The Power Of Love sung by Gabrielle Aplin, and it aimed to capture the deeper emotions of gift giving.
Through social media, dedicated merchandising and in-store events the snowman was given a life of his own. He featured on John Lewis' shopping bags and in-store window displays.
The retailer sold a 'make your own snowman' knitting kit and a children's book telling the snowman's story. A life-size snowman was created for each store and featured as part of a treasure hunt for children.
Life-size snowmen also made appearances in different locations around the country, even turning on high street Christmas lights in Newcastle. A Twitter campaign using the hashtag #snowmanjourney tracked his adventures, and people were encouraged to tweet when they spotted him.
Social media users took to Twitter in their droves, boosting awareness further. The Journey even sparked unofficial Twitter accounts for its two main characters.
The retailer successfully built up hype beforehand, through TV and social media. It worked with Channel 4 to launch its TV debut as UK retail's first 'advertising premiere', with trailers in the days leading up to it. To create further buzz, the public was able to see the ad before it aired via social media, which resulted in it trending on Twitter within four hours of launch.
'The public was able to see the ad before it aired via social media, which resulted in it trending on Twitter within four hours of launch'
One judge described The Journey as "a great integrated campaign across different dimensions" and commended the retailer for its prominence and consistency.
Another said: "John Lewis does a stellar job at this year on year."
The campaign translated into sales, with total sales up 14.8% in the five weeks leading up to the end of December 2012 when the campaign was live.
There were three record sales weeks over the festive season. Sales in the week leading up to Saturday December 22 exceeded £150m - a first for the retailer. Takings reached £157.8m - a 26.5% increase on the same week a year ago.
John Lewis has built on that success with its most recent Christmas advertising campaign, The Bear & The Hare. For the past three years the retailer has been the "story of Christmas advertising", one judge said, adding: "It owns that space." Which leaves the question, what will it come up with this year?
Highly commended: Ao.com
Making white goods exciting is no easy feat. But online retailer Ao.com's first TV advertising campaign managed to do just that.
The series of tongue-in-cheek ads, which have a fly-on-the-wall documentary feel, created a world where people are obsessive about white goods, kitchen appliances and customer satisfaction.
"I thought Ao.com was standout. The ads are just brilliant. Turning something so functional into something so engaging is clever," said one judge. Another commented that the adverts were "quirky, geeky and funny".
Having changed its name from Appliances Online to Ao.com, the retailer wanted bring the new brand to life and communicate it to the public.
The retailer worked in conjunction with agency BMB, to develop a series of TV adverts.
It also launched a social media campaign on Ao.com, Facebook and Twitter, encouraging customers to interact with the newly created brand. A large outdoor event was held in Manchester, where people could give Ao.com's branded forklift a hug and have their picture taken. They could win a prize if they uploaded the picture to Facebook and Twitter.
Nasa
Nasa is a unified national advertising sales agency providing an unrivalled suite of multimedia advertising options for customers.
We represent Trinity Mirror's regional, national and digital brands as well as a growing number of external publisher clients including Local World and the Midland News Association. www.nasamedia.co.uk