The challenges of multichannel, property, business rates and the economy will be themes at Retail Week Live 2013. Caroline Parry asks some guest speakers how they see the way ahead.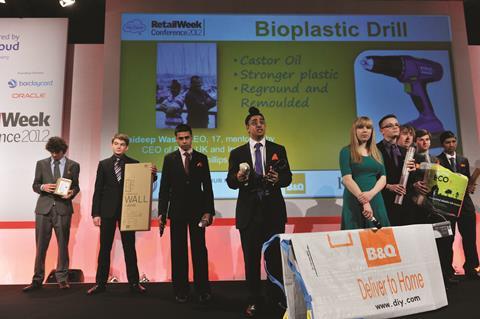 As retailers adjust to the 'new normal', they face many challenges and opportunities and Retail Week Live will tackle all the issues. The sector will continue to change in many ways, including being at the forefront of technological developments and consumer trends.
It is such issues, alongside others including property strategy and the growing importance of international markets, that form the central planks of the presentations and panel discussions at next March's Retail Week Live 2013 in London.
Pets at Home multichannel director Matthew Stead, who will be part of an omnichannel panel discussion, points out that consumers are facing price rises in both utilities and food next year and will be smarting from the cuts in child benefit. "It will be challenging going forward," he acknowledges. "But if customers are under pressure then we need to give them a great experience, however they interact."
Pets at Home has focused on three key areas during 2012 – a pilot scheme of click-and-collect, using PayPal for payment and investing in range growth online. The hard work isn't over, however, and Stead predicts a "chunky" agenda for 2013.
The pet specialist is re-platforming its website, which will be fully mobile optimised, replacing the existing site which has been in place since 2009.
It will also extend its delivery-to-store services to its entire portfolio, building on its existing click-and- collect services, and continue to invest in online growth.
"Our three-year plan is working towards offering customers everything, everywhere and at any time," he says. "We have to ensure that customer service and functionality support that."
Wickes multichannel director Simon Holder, who will sit on the same panel discussion as Stead, says the DIY group is similarly moving towards the goal of offering a seamless, integrated consumer experience. "We accept that we have got a number of channels and that they are not working as one at the moment," he explains.
"We have been working on our IT, culture, people and pricing – the endgame is to get a situation where a consumer's experience is the same across all channels."
Holder says Wickes is about two years into a six-year multichannel roadmap, which has been boosted by the recent arrival of former Tesco.com chief JJ Van Oosten as chief information officer at parent company Travis Perkins. Since joining, Van Oosten has brought in new people in a bid to ramp up the group's IT capability. "It will really allow us to drive forward and make sure that all of the systems we have in place are able to work together," says Holder. The emphasis for Wickes is to achieve this through organic growth, he emphasises. To enable that, the group is introducing agile working to allow IT staff to work more flexibly and boost productivity. The idea is that IT staff will work on shorter projects that will then be tested and updated accordingly, instead of longer, more time-consuming programmes. This way, the retailer hopes more will be achieved.
Integrating mobile
The role of mobile phones in a multi­channel future will also be a key discussion point at the conference. Holder says he wants to focus on how mobile can bring stores online, although he is not convinced about its role as a transactional platform.
For Morrisons-owned baby specialist Kiddicare, which began as a pure-play digital operator but will have three superstores before the end of year, the focus is on how mobile can act as the glue between all of its channels.
Morrisons head of mobile Sienne Veit, who will take part in a panel discussion on getting m-commerce strategy right, explains: "We see mobile as quite a mature channel now and not just as an add-on. It is a terminal in its own right but it needs to be a richer experience.
"We want to bring more inspiration into the mobile channel – people use their mobiles at home as another screen. It doesn't have to be just a light experience anymore."
For this reason, Kiddicare offers wi-fi in its new stores – it has opened in Nottingham and Merry Hill, in the West Midlands, and will add a third in Thurrock, Essex, before the end of the year. Customers need only to log in once, and will be remembered for future visits or when in other stores. There are calls to action inviting people to 'like' and 'share' their experiences in store. "We are positive about this as we are transparent," Veit says. "We aren't afraid as we offer price match and, on mobile, people can instantly access that."
In 2013, Veit hopes there will
be progress in the discussion around mobile payments. "There has been so much discussion about whether to use near field communication [contactless payments] or not," she says.
Future of stores
What future bricks-and-mortar stores will look like will also be up for debate at the conference. For Kiddicare, it is how to fit shops into an existing digital strategy while, for the past few years, a majority of retailers have struggled to fit a digital future around their existing portfolio.
Stead says the role of the store remains pivotal for Pets at Home, which opened 32 new shops last year. But the optimal mix for the retailer will be a combination of smaller local stores that support the multichannel strategy and larger superstores that incorporate vet and grooming services, offering customers a one-stop shop.
Co-operative Estates managing director Martyn Hulme has spent 2012 assimilating the 28 David Sands stores it acquired in Scotland while opening shops in 80 new locations and investing in the grocer's core estate.
Hulme, who will be at Retail Week Live to discuss property strategy, believes the store of the future needs to be tailored to the individual needs of the customer that it serves.
"The store of the future is smaller – a place to top up in between online orders as well as a community service centre for Post Office services and prescription collections," he says. The Co-op is already moving in this direction through its tie-up with Amazon, allowing customers to pick up orders from collection lockers in stores. The lockers are in four shops at present but it plans to have 150 in place by the end of the year.
In the short term, however, the upwards pressure on rent remains a major issue. "With the convenience sector likely to continue to grow over the next few years we do not see this situation changing in the short term – competition for the best sites will continue and with it rental values will increase," says Hulme.
And, of course, rates are perhaps the most topical issue for him. "We are disappointed that the revaluation has been postponed," he admits, referring to the Government's decision to defer a rating revaluation from 2015 to 2017.
With domestic strategy focused on omnichannel and technology, for many the key to long-term growth is international expansion.
Tim Maule, deputy chief executive of baby specialist Mamas & Papas, will lead the discussion on different models of international trading, while examining case studies of what has worked and, just as crucially, what hasn't.
It's an exciting time to be a retailer, as opportunities come from every direction, and next year's Retail Week Live event promises to address them all.
Six stages to cover all areas
Across two days Retail Week Live will focus on six key topics with a dedicated stage for each. The event will be held in London in March.
Wednesday, March 13
Omnichannel retailing The seamless customer experience
The consumer Understanding behaviour, driving loyalty, building advocacy
The store How technology is reshaping bricks-and-mortar retailing
Thursday, March 14
Technology and the consumer How relationships with customers are changing
International growth The how, why and where of British brands abroad
Property Opportunity or albatross
Reasons to attend
More than 80 inspirational speakers Hear and learn from some of the most influential names in retail, enabling you to know what you need to do to run your business better
Interactive forums A chance for everyone to share knowledge and experience in a series of sessions from round-table discussions to retail surgeries
Unrivalled networking opportunities Your chance to meet and mingle with the cream of British retail, allowing you to share your learnings and best practice
Industry-defining content Two days of unique debate, expert opinion and retail knowledge
Choice of six conference streams Personalise and prioritise your agenda and follow a conference theme that has most relevance to your business
Future trend insight Discover what the world of retail will look like in 2020
Book your place at Retail Week Live 2013
Attending Retail Week Live in London will give you unprecedented access to the most cutting-edge practices and thinking in the sector, helping you shape your business effectively throughout 2013 and beyond. To find out more or to book, please call 020 3033 2777 to speak with the Retail Week Live 2013 team, or book online.