PAID FOR POST
More voices from the retail industry
As the nation waits with bated breath for the results of this week's election, Springboard Research asks how it will affect retail footfall.
Over the past couple of years, footfall in UK retail destinations has been on a modest downward trend, with a cumulative drop of 1.9% since 2014. However, this disguises more significant shifts in consumer activity between location types.
While high streets – long regarded as the poor relation of retail destinations – are continuing to record drops in footfall, this has lessened over the past couple of years with an improvement in performance last year compared with 2015.
In retail parks last year footfall continued to grow, but at a decreasing rate from 2015, while in shopping centres footfall continued to decline at virtually the same rate in each of the past two years.
And these trends are highlighted further by looking at the results for the year to date, between January and April.
The growing success of high streets in evolving to reflect the increasing consumer demand for leisure-based trips is evident in growth in footfall across all key periods of the day, with the greater uplifts occurring after 5pm.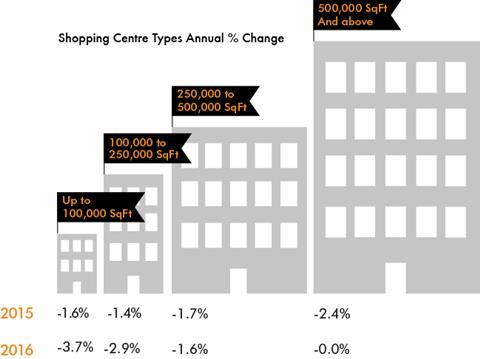 In retail parks the growth in footfall, while still positive, is cooling off but these destinations remain popular into early evening. While the stagnation in offer in many shopping centres – particularly the small and mid-sized malls – has adversely impacted footfall.
This is reflected in a noticeably stronger footfall performance in larger malls this year for the year to date than in the same period in 2015.
So what does the rest of the year look like it will hold for footfall in bricks-and-mortar destinations?
With Brexit looming we have clearly entered uncharted territory, however, this will be a long play stretching beyond 2017 and possibly even 2018.
The uncertainty closer to home lies in the potential impact of the outcome of the general election, which is imminent.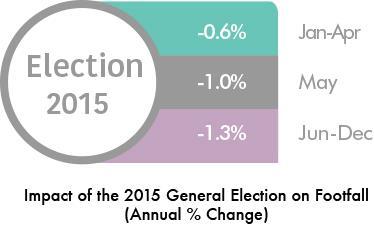 To some degree we are fortunate in that we have evidence to draw on from the last election which was only two years ago, and this suggests that footfall may worsen after June 8 and to the end of 2017.
In 2015, UK footfall between January and April declined by just 0.6%, but the dropped by 1% in May and then by 1.3% from June to December.
Springboard tracks footfall continuously 24/7, and the continuity and immediacy of this data combined with its vital role for retail destinations means that it will offer a key insight into destination performance moving forward.
Diane Wehrle, marketing and insights director, Springboard Research


The leading provider of retail performance insights.