PAID FOR POST
More voices from the retail industry
Marketplaces are hot property as retailers look to capitalise on the recent explosion of ecommerce, which is only intensifying further as some parts of the UK navigate a second lockdown. These solutions are making it easier for businesses to buck this trend and reach more customers worldwide.
If this year has taught us anything then it is that ecommerce can provide opportunity and growth in the toughest of times, with online sales continuing to explode throughout 2020.
UK retail sales increased for the fifth consecutive month in September with a hefty 28% of revenues coming from ecommerce, compared with 20% reported in February. With some parts of the country now in a second lockdown and non-essential retail stores closed, an online Christmas can also be expected.
Retailers can build on the acceleration of ecommerce this year by exploring new territories. How? The answer lies with marketplaces – specifically multi-marketplaces, simplifying the process of cross-border online sales.
"Globally ambitious retailers without a presence on marketplaces simply won't be able to keep pace as these platforms gobble up market share"
Marketplaces are now so important that a recent report from Retail Week and the Department for International Trade (DIT) attested that globally ambitious retailers without a presence on marketplaces simply won't be able to keep pace as these platforms gobble up market share.
Below, we've outlined solutions that give retailers multi-marketplace access through one touchpoint:
International Marketplace Network (IMN)
A relative newcomer to the scene but one platform that retailers most definitely should be clued up on is the International Marketplace Network (IMN).
The IMN is a technological and commercial alliance between four major European marketplaces: Cdiscount (France), eMAG (Romania), ePrice (Italy) and Real.de (Germany).
Following a one-year test phase, the IMN launched in November 2019 offering its community of sellers access to new markets in one click, bringing with it a host of international growth opportunities.
"The IMN is an alliance between four major European marketplaces: Cdiscount, eMAG, ePrice and Real.de"
Registration with just one of the four marketplaces gives retailers access to all three others. To register, retailers complete the forms online on their chosen 'home' marketplace. You may need to upload documents and supply proof of the company information.
There are no charges for connecting to the additional marketplaces, you will just need to pay a monthly fee on your 'home' marketplace. There are also no tech integrations, as existing credentials are used.

"We have watched the evolution of international ecommerce over the last years and have noticed roadblocks that we would like to eliminate," says the IMN on its website.
"While we are aware we are just at the beginning, we will build something that will help all ecommerce players grow, both big and small."
One key advantage of the alliance is that it helps remove borders to trade and makes it less expensive to sell in other countries – a huge bonus for retailers on the hunt for affordable international expansion.
With a potential market of 230 million customers, the IMN offers a huge audience and hosts approximately 30,000 active marketplace dealers.
The marketplaces retailers can access via IMN
Cdiscount
This French ecommerce leader provides sellers with access to 9 million active users with 20 million visitors a month. The marketplace sells 52 million products ranging from homewares and electronics to gaming and automotive accessories.
eMAG
The Romanian online retailer has enjoyed a 50% increase in traffic year on year with visits growing to 44 million a month. eMAG, which sells everything from PCs to pencil skirts, provides customer service and translation of bestsellers as well as a fulfilment service.
Real.de
German supermarket chain Real merged with online marketplace hitmeister.de in 2016 to become one of the biggest platforms in the country. Offering 15 million products to its 19 million unique visitors a month, its slogan 'Einmal hin. Alles drin' can be translated as 'Once there. Get everything'. Brands selling on this marketplace include: Adidas, Dyson, Lacoste, Lego, Nike, Samsung, Sony and Timberland.
No monthly fee for the first three months (only pay commission on items you sell) when you onboard through DIT.
ePrice
The market leader for consumer electronics, home appliances and gaming in Italy, ePrice is the biggest Italian marketplace offering 8 million products to its 4 million unique visitors a month. Its mission is to serve the technological evolution of Italian families and homes. Retailers selling on this marketplace include: Apple, Lego, Microsoft and Samsung.
Try for free for the first 12 months (only pay commission on the items you sell) when you onboard through DIT.
The integrators
While the IMN is purely Europe-focused, there is a range of solutions that connect retailers to a smorgasbord of marketplaces worldwide.
Ecommerce integration solutions link your ecommerce platform and backend systems to automate critical processes such as order fulfilment and optimising sales across hundreds of online channels like Amazon, eBay, Facebook, Google, Wayfair and Zalando.
Points to consider if you're looking to integrate
1. Resources
Do you have the people and time in place to manage the integration project?
Do you have the budget? Prices vary from basic to custom-built solutions and monthly fees.
2. Vendor experience
Do they have experience integrating your endpoint systems?
Have they designed for ecommerce and retail?
3. Scalability
Does your integration allow you to scale processes? This ensures you do not outgrow current capabilities.
4. Data
What types of data are being handled? This determines processes you can automate.
Is data processed real-time? This prevents problems such as delays in product listings and overselling out-of-stock items.
5. Vendor support
What levels of support will you receive?
Where is the support team located?
Choosing the right integration approach and vendor is crucial to your project's success.
Below are examples of some integrators that work with retailers.
ChannelAdvisor
ChannelAdvisor marketplaces allow for automated delivery of product data to every destination, trouble-free management and the capability for retailers to expand internationally.
Shoe retailer Crocs, for instance, has used the solution to increase its reach on global marketplaces, particularly in the US.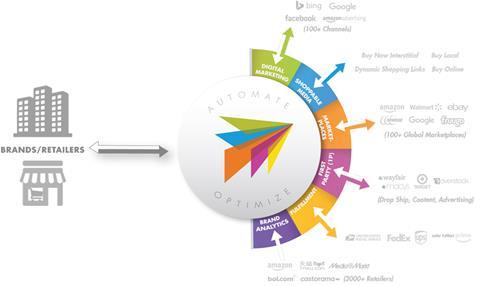 Linnworks
Using Linnworks, retailers can benefit from multichannel marketplace listings, shipping management, inventory management and reporting, stock control and order management.
Dixons Carphone and DFS are among the platform's retail customers.
We Are Pentagon
A UK-based ecommerce solution that supports retailers to sell their products in more than 30 countries worldwide via global marketplaces.
Sports Direct, Ann Summers and Coty are among We Are Pentagon's clients. Ann Summers, for example, used the solution to launch on eBay in six different international markets.
DIT offers free tailored cross-border ecommerce advice to UK businesses.
Find out more.

The Department for International Trade is a United Kingdom government department responsible for striking and extending trade agreements between the United Kingdom and non-EU states, as well as for encouraging foreign investment and export trade.