How to ensure your ecommerce offering is world-class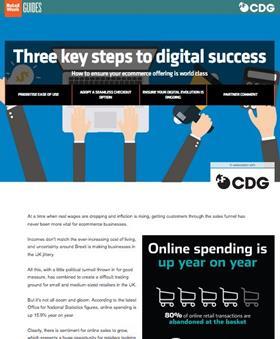 For retailers to succeed across multiple platforms, their ecommerce offerings must be world-class. Explore all the options in this guide by Retail Week and CDG.
At a time when more retailers are expanding their online presence, getting customers through the sales funnel has never been more vital for ecommerce businesses.
In this guide you will find:
The benefits of prioritising: this will help create clear digital journeys
Why you should adopt a seamless checkout option: any friction in the user's journey can lead to abandonment
Why digital evolution should be ongoing: being idle can lead to failure.
Access Three Key Steps to Digital Success here.

CDG is a leading software development company and innovation hub specialising in developing and implementing robust, scalable and flexible software solutions for the enterprise market.