How retailers can avoid creating the next cyber-hack headline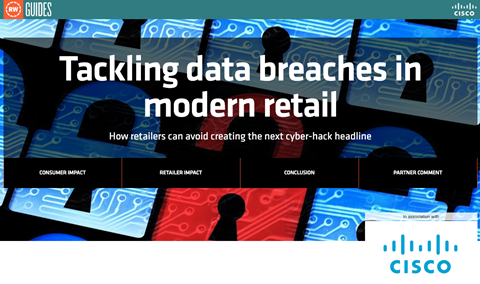 To understand more about the impact of data breaches and how retailers can avoid creating the next cyber-hack headline, Retail Week conducted extensive research with 2,000 consumers alongside 50 top retail executives, covering job titles from chief executive, chief information officer and chief technology officer to senior managers in departments spanning information management, data security and management, and cyber security and threat management.
The interactive guide was produced in association with leading worldwide technology firm Cisco.
Click here to read the report, which investigates two key areas:
1. Impact on consumers
What effect do data breaches have on the consumer?
What is their main platform of complaint?
How likely are they to shop with a retailer again if a breach has occurred?
What are consumers doing to keep their information safe?
2. Impact on retailers
Just how big is the problem?
What are retailers doing to combat hacking threats?
How can they keep up with hackers?
Does the executive team truly understand the threats posed?


Cisco is a worldwide leader in IT that helps companies to seize the opportunities of tomorrow.