Retail and technology in the age of disruption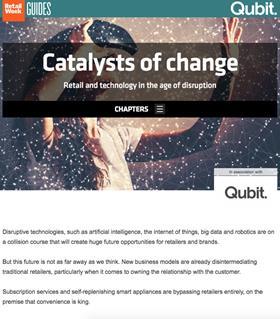 Disruptive technologies are on a collision course that will create huge opportunities for retailers. Discover how in this guide by Retail Week, in association with Qubit.
In this interactive guide, more than 70 senior retail executives in the UK have shared their perspectives and priorities when it comes to disruptive technologies. We asked them about:
The innovations affecting their business
The potential – and limits – of artificial intelligence
The impact of machine learning
Investment in new technologies
Collecting and using customer data.
Access Catalysts of Change today.


Qubit is the leader in data-driven experiences, helping brands deliver personalisation at scale.