The owner of the Rana Plaza building has been charged with murder following its collapse in 2013, which killed more than 1,000 people.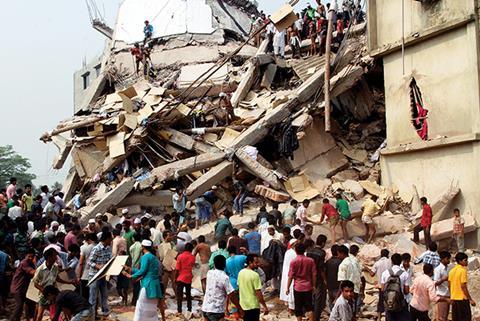 Forty two people have been charged by police in Bangladesh, including building owner Sohel Rana and more than a dozen government officials.
According to the BBC they are accused of ignoring warnings to stop workers from entering the building the day prior to its collapse.
The accused initially faced charges of culpable homicide, but it has been increased to murder. The defendants will face the death penalty if convicted. A court hearing is to take place on June 28.
Farah Kabir, country director of Action Aid which worked closely with the victims of Rana Plaza said: "It is alleged that despite strong warnings about the state of the building, workers had been forced to come to work. There was wide spread speculation that the case might would be deliberately delayed because of the alleged political connections of the perpetrators. But to our great relief that didn't happen."
"Thousands of survivors are still struggling to get back to anything like a normal life. Many need on-going medical treatment and there are unsettled issues of compensation payments. We believe watching justice being done will be huge boost for all of the victims and their families."
The disaster brought worldwide attention to working conditions in Bangladesh. Retailers that sourced clothes from the factory have been encouraged to pay millions in compensation into the Rana Plaza Donors Trust Fund.
The building housed five factories that supplied retailers including Gap, Primark, Bonmarché and Benetton.
The biggest contributor to the fund was Primark. It was quick off the mark to pay $12m (£8m) compensation payments to victims. It pledged to make a $9m (£6m) payment to workers or dependants who worked for the Primark supplier, as well as a further $1m to workers who were not involved in its own supply chain bringing its total payment to non-Primark workers to $3m.
But a number of retailers have been criticised for their late payment.