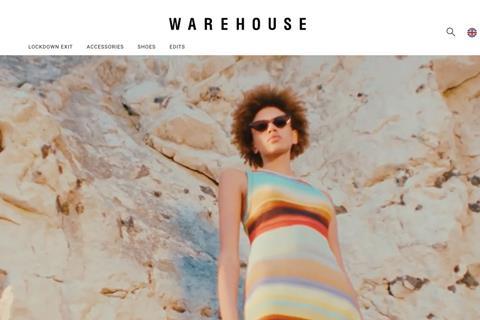 In April 2020 fashion chain Warehouse filed for administration, along with sister retailer Oasis, as the pandemic hit the final nail for the group that was already on shaky ground following a prolonged period of ownership uncertainty and declining sales.
In June the intellectual properties of both were acquired by Boohoo in a £5.2m deal. The etailer, which in the past few years has been acquiring brands to expand its audience and reach, said it would be "integrating Oasis and Warehouse onto its platform, allowing both brands to benefit from the group's insight, infrastructure, supply chain and operating model".
Chief executive John Lyttle said the brands would help Boohoo cover the "middle market", adding: "Oasis and Warehouse have got great heritage. Obviously they have slipped a bit over the last couple of years but we really felt like, with integration on to our platform and our ways of working, we could really get those brands back and make them strong again." See Boohoo parent profile, brand strategy
What went wrong for Warehouse?
While the Oasis Warehouse Group was an early multichannel adopter and having resized its estate to support this strategy well before it became fashionable to do so, the past couple of years saw major impact by the popularity and competitive pricing structures of pureplayers Asos, Boohoo and Missguided.
The group was only marginally profitable at the operating level in 2018/19 as ongoing investment in a challenging fashion marketplace has taken a serious toll on the bottom line.
In April 2020, the group – which at the time was owned by failed Icelandic bank Kaupthing and included associated companies The Idle Man and Bastyan Fashions – filed for administration in April 2020. Restructuring firm Hilco stepped in to buy certain stock and intellectual assets, selling them on to Boohoo by June.
Warehouse was founded in the 1970s in London as Warehouse Utility Clothing Company. As a brand it had always moved with the times, launching into mail order in the mid 80s, expanding globally in the late 90s, and going online by the early 2000s.
During the 1990s it was very much part of the new guard of fashion retailers in Brit Pop culture, along with brands such as Karen Millen, Whistles and Oasis.
Throughout the 2000s, a series of buy-out deals saw the ownership of these brands change a number of times, with Warehouse being held by Sierra Holdings, Mosaic and finally Aurora Fashions. Warehouse and Oasis were de-merged in 2014. Between 2016 and 2020, the group was put up for sale a number of times, before eventually falling into administration.
Innovation rating: 3
See related content from Retail-Week.com