Traditionally better known as a hire business, formalwear specialist Moss Bros has been working towards reinventing itself as a contemporary men's fashion retailer. The hire business has also been modernised.
The retailer has decided to be known to consumers as Moss, reflecting the growth in revenue share that now comes from casualwear. It still has the holding company name of Moss Bros Group Ltd.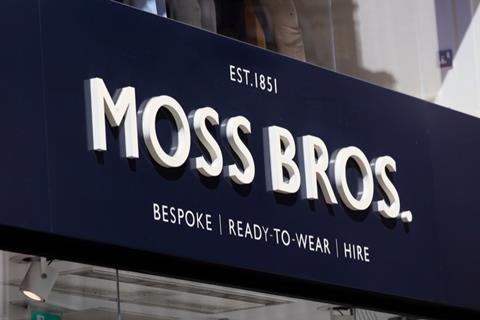 It has been looking to multichannel to extend its appeal with the younger segment of the market and become the UK's leading suit specialist, while it launched a monthly subscription service called Moss Box in 2021 to further widen appeal and bolster sales in the wake of the pandemic.
Moss Bros was late to launch online, but has been investing heavily, including a revamped retail website as well as a transactional hire site.
Seriously impacted by the health crisis, and with losses escalating, Moss Bros was one of several UK clothing retailers to resort to a CVA in late 2020 to ensure its survival in light of the slump in trade. This was successfully completed in January 2021, resulting in a "significant reduction" in fixed costs.
A surge in demand for occasionwear as people returned to social events following the pandemic saw Moss Bros total sales soar 62.7% to £151.6m in the financial year to 28 January 2023, moving ahead of pre-pandemic levels, while profits more than doubled at both operating and pre-tax levels.
Moss Bros is continuing to expand with store openings, while its expansion into marketplaces is helping expand its reach.
Innovation rating: 2
See related content from Retail-Week.com