Supply chain strategy
Operates a vertically integrated business
Cocoa is sourced from its own plantation in Saint Lucia
Chocolate is then manufactured at main facility in Huntingdon, Cambridgeshire
Distribution centre in nearby St Neots
Improving service and availability, and managing seasonal demand is at heart of supply chain strategy
Ongoing investment in UK manufacturing capacity
Hotel Chocolat operates a vertically integrated business model which has sustainability at its core.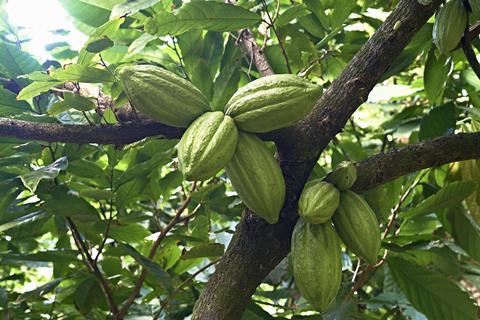 Its supply chain is focused around the company-owned Rabot Estate cocoa plantation in Saint Lucia and the freehold Hadley Park manufacturing facility in Huntingdon, Cambridgeshire.
A commitment to first class service levels, improving availability both in the UK and overseas and creating the agility to manage seasonal demand is at the core of the supply chain strategy.
As Hotel Chocolat closed its stores in the wake of the coronavirus pandemic it elected to shift its stock from its stores to its distribution centres.
This meant it could increase online sales and those through its third party retail partners.
The retailer said that this experience has led to plans for 2020/21 and beyond to "fit-out of the new enlarged DC, providing 100% more supply chain capacity, and increased multichannel flexibility".
It explained that the investment doubled its storage and despatch capacity and that the layout was designed to facilitate "significant channel fulfilment flexibility at short notice, enabling us to shift smoothly between physical, digital and partners".
This builds on recent investment in upgrading its manufacturing infrastructure as it prepares to install a fourth production line at its Cambridgeshire factory, which will be operational in 2022.
This capital project of around £4m, is intended to increase capacity by 30%.
Prior to the coronavirus outbreak the retailer had been focused on production, packing and handling automation.
Hotel Chocolat is looking to increase its physical capacity and streamline its IT systems in the latter half of 2020. The project will also enable the addition of up to two further production lines by 2024.
The retailer brought subscription distribution activities in-house in early 2020 in order to make the service more responsive and to enable it to offer a wider range of subscription types.
Fulfilment
Through its premium service, Hotel Chocolat offers guaranteed next-day delivery for orders received before 6pm.
It also offers free click-and-collect.
Improving fulfilment has been set as a priority and the retailer is working with delivery firm Shutl in a bid to extend the options available to consumers.
It has also parnered with operations experience management platform ParcelLab to provide more information about deliveries and improve the online experience for its customers. See ecommerce strategy
Standard delivery is within three to five working days.
See related content from Retail-Week.com