UK stores strategy
Operates around 125 UK stores
Refreshed store design and digital initiatives trialled primarily in London stores
Increased focus on restaurants and tasting experiences in recent years
Launched 'drive-to' outlet store
Plans to continue store rollout with proven store formats, but more diverse locations going forward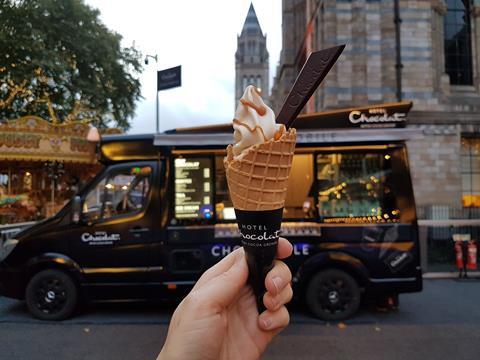 Although Hotel Chocolat operates the vast majority of its stores here, chief executive Angus Thirlwell says he is "very determined not to over-populate the UK".
However, in early 2023 the retailer revealed its intentions to open 50 new stores in the UK within the next five years, as part of its growth plans.
Hotel Chocolat's stores are well presented to reflect its luxury proposition and also offer in-store theatre such as tasting evenings and events to enhance the customer experience.
In its report for FY2021, Hotel Chocolat referred to its new, larger-format stores "showcasing the format of the future", which had opened in Norwich and Northampton, and were "trading very strongly". Further openings are planned for autumn 2023. The format includes an "increased café presence", which "underlines the opportunity to create compelling experiences that customer's want to revisit". The retailer said that its cafés drive incremental repeat customer visits and purchases. It added, "as we look to open a further 50 locations over the next three to five years, Velvetiser Cafes will be a key part of the leisure experience that we offer our customers".
Sales through retail stores were ahead of pre-pandemic levels in FY2021. And as the results were published – in December 2022 – Thirwell revealed it was eyeing a wider rollout of its new "format of the future" stores as shoppers returned to physical stores. The new concept has more selling space (two to three times the size of the average shops) and a sit-in-cafe selling ice cream and hot drinks, creating a more immersive brand experience. Thirwell described the format as a "marked evolution" from the existing store estate.
It has always understood the need for its stores to deliver on the leisure and experience level and investment in this area have paid off in recent years, with further potential shown by "prolific customer-generated social sharing".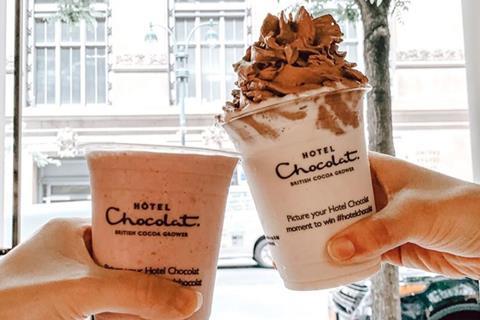 Management said it is "determined to step-up further the multi-sensory elements" across the Hotel Chocolat estate from 2019. It is extending the range of experiences offered, starting with in-store demonstrations and perpetual product sampling, adding Drinks + Ices for "instant gratification", all the way up to its most immersive experiences - Chocolate Lock-Ins.
Drive-to outlet store concept
In mid 2020 Hotel Chocolat launched its first "drive-to" outlet store in Cambridgeshire, next door to its main distribution centre in St Neots, as part of its efforts to cut food waste and tap into changing consumer habits. At 1,400 sq ft the store and cafe are twice the size of a regular Hotel chocolat location.
It also has 3,000 sq ft outside space for alfresco seating, as well as a 100-space car park for customers – designed to play into the trend that has seen shoppers favour local high streets or locations they can drive to during the pandemic.
As well as stocking the brand's full 500 SKU proposition, it also offers an additional range of 50 end-of-season and misshapen chocolate products that are not available in existing stores.
Thirlwell told Retail Week it could roll the concept out to more locations in outlet villages, retail parks or service stations if the debut store trades well.
Other store formats
Net nine new stores were added in 2019/20 on the back of 14 new openings the year before.
Although the retailer has focused its presence on high streets, it also has a number of travel stores in train stations.
The retailer has also opened more than 30 Hotel Chocolat Cafés in recent years and moved beyond retail by launching two restaurants – Roast + Conch in Leeds and Rabot 1745 in London, both of which serve cocoa-based dishes.
Additionally, it has a School of Chocolate in Covent Garden which offers tasting experiences and chocolate-making courses.
Hotel Chocolat's store network still has a strong bias towards the South, especially London where it operates around 30 outlets.
Stores technology
Stores obviously play a significant role in the customer journey for Hotel Chocolat.
Digital screens are used to add to the in-store theatre, and store staff attempt to capture shoppers' emails at the till point which boosts customer data and its ability to engage them across both the online and offline channels.
Hotel Chocolat finds that its mobile site is frequently used to find out information about its products, but the addition of click and collect means shoppers are increasingly purchasing online ahead of their visit.
The retailer is using its stores to hold events that increase engagement, bringing more people into the shops and ensuring they learn more about the brand.
See related content from Retail-Week.com