Ecommerce strategy
Increased investment in driving online growth
Improving personalisation is key focus
UK site relaunched in 2017 with enhanced mobile/tablet compatibility
Platform allows the group to create dedicated international sites more easily
Development of fulfilment also key; partnering with ParcelLab from H2 2021 to provide more information about deliveries and improve online experience
Hotel Chocolat has an unusual business model in that it is one of the few high street retailers to have moved from being a pureplay, when it ran its Chocolate Tasting Club online, to a significant bricks-and-mortar player.
Investment in driving online growth was ramped up from 2019 following the appointment of Lysa Hardy as Hotel Chocolat's first ever chief marketing officer at the end of the previous year. This included investing in a more skilled and experienced team to support the new CMO role and instigating certain tech upgrades that had been under development for a while.
This has seen Hotel Chocolat insourcing all CRM and email activity to achieve greater control and improve personalisation.
It has also digitised its successful VIP.me loyalty scheme from late 2020, launching an app and improving online navigation and conversion.
Hotel Chocolat has seen online sales surge during the pandemic, with more than 50% of sales starting online in 2021 and over 3 million customers on its database.
It is now partnering with operations experience management platform ParcelLab to provide more information about deliveries and improve the online experience for its customers.
Using ParcelLab technology, the retailer will now send delivery updates by email as well as push notifications to members of its VIP.me loyalty club who use its app.
The partnership will also see the launch of a Hotel Chocolat order status tracking page both online and on its app to keep shoppers informed about their deliveries. The tracking page will also feature recommendations and suggestions.
Ecommerce director Martin Bell said: "Despite the challenging circumstances, the last 15 months has seen our ecommerce business go from strength to strength. It has demonstrated how important it is that we continue to invest in the online experience making improvements and creating even stronger relationships with our customers. While we are delighted to welcome customers back in store, the desire for an exceptional online experience will remain, and being able to provide these through our partnership with parcelLab will prove vital in driving long-term customer loyalty."
Previous investment in improving its digital offer has seen Hotel Chocolat working with suppliers like Red Technology and consultancy Practicology in a bid to strengthen links between the online and offline offer.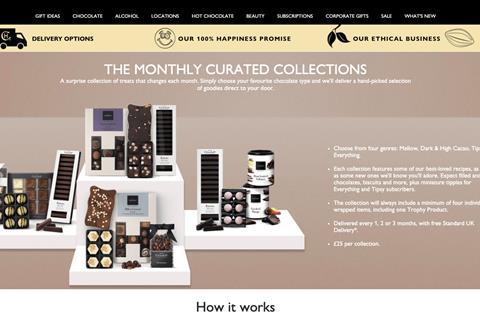 The Chocolate Tasting Club website was replatformed and integrated into the primary website and relaunched as a monthly subscription service with a choice of four different subscription options.
The retailer replatformed its site in 2017 to provide increased mobile and tablet compatibility. This has made it easier – and less costly – to launch dedicated international sites.
Commenting ahead of the launch of the new site, chief executive Angus Thirlwell said it was all about "strengthening, stretching, improving and staying ahead of the curve in digital.'
He added: 'One of the big advantages of the new platform is that we can, at quite reasonable cost, get websites up for different international markets."
The launch in Japan has been supported by a new website, while the US site was upgraded in late-2019 following the retailer's renewed push into this market.
Mobile
Much of Hotel Chocolat's current investment has a mobile focus.
Recent launches have included a gift-sending app and a subscription app, introducing new offers to create a sustainable subscription growth programme going forward.
A mobile-first Gift Finder tool was introduced to its website in FY2018. This allows browsers to navigate Hotel Chocolat's gift range by answering three questions with the option to send the gift via SMS. Its 'Whoosh Instant Gifts by Text' service allows the recipient to choose a delivery option, with additional options for discrete swapping of the gift for another product and quick thanking.
See related content from Retail-Week.com