Brand strategy
Hotel Chocolat has successfully managed to carve out a niche in a densely populated market as an aspirational, high-end brand that is obsessive about the quality of its product.
Its positioning as a luxury chocolate brand means it has a large constituency of affluent customers; however, a wide-ranging pricing structure enables it to tap into a diverse audience, particularly for gifting products. This broad appeal is reflected in the company's ethos to bring the 'best of the best' to the widest possible audience.
The company's big theme is around healthy luxury and it wants its consumers to treat themselves while also being responsible.
The brand's values are based on originality, authenticity and ethics. It is constantly seeking to innovate – it was the first to present 'single côte' chocolate, meaning no harvest will taste the same as another – and does not conform to industry norms, an approach epitomised in its curvy giant slabs of chocolate and extra-thick chocolate eggs, as well as in the high-cocoa and low-sugar content of its products that differentiate it from mass-market peers.
The retailer grows its own cocoa on its plantation in Saint Lucia, giving it an authenticity that competitors who source on the open market lack.
It strives to make consumers feel part of a community of chocolate aficionados, whether it be through initiatives such as its Chocolate Tasting Club or through the bespoke feel of its products and its store designs which encourage discovery and connoisseurship.
It is also known for bringing design and humour into the chocolate market with Easter egg offerings including the likes of ostrich and quail eggs and other novel designs such as the City Bunny.
Over recent years the brand has been extended through the opening of cocoa bar-cafés, a restaurant and a School of Chocolate in London.
Underlining its premium British heritage, Hotel Chocolat has a five-year partnership with the Baftas as well as a deal with British Airways to serve its chocolates to First Class and Club passengers.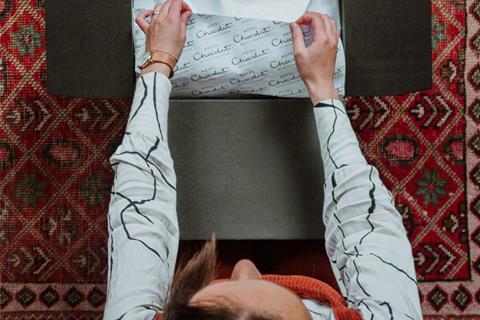 Product offer
The core Hotel Chocolat product ranges are boxed chocolates, chocolate gifts and individual batons and slabs, with best-selling lines including 500g chocolate slabs and extra-thick Easter eggs.
Hotel Chocolat also sells hot chocolate, cooking ingredients, savoury cocoa products, chocolate snacks and wine and spirits.
The business has taken the chocolate product concept beyond mere food and has launched its own cocoa-butter-based beauty range inspired by therapies created at its plantation spa in Saint Lucia, called Cocoa Juvenate.
Innovation is at the heart of the brand and Hotel Chocolat recently launched dairy-free chocolates, targeting vegans and people who are lactose-intolerant.
It also developed its Velvetiser home hot chocolate machine with Dualit in 2018. The machine uses single-serve pouches of shaved chocolate, available as one-off purchases and as part of a subscription.
Further innovations in the pipeline are Velvetiser lattes, vegan gift-box assortments and new subscriptions including the Wonka-esque Inventing Room box.
Customer service
The business sets high standards of customer service and encourages employees to take an obsessive interest in the subject of chocolate. Customer service queries are handled at its site in Huntingdon, Cambridgeshire.
Customer data and analytics
Hotel Chocolat collects email addresses in-store in a bid to connect a shopper's online profile with their store purchases.
The retailer already has an extensive database of customer interactions from its Tasting Club, with 55,000 customers signed up to this monthly subscription service.
Boss Angus Thirlwell told Retail Week that Hotel Chocolat's constant interaction with customers through its Tasting Club is its "secret weapon".
Its data programme was further strengthened in 2018 with the launch of the VIP Me loyalty scheme. This is available to retail customers in-store and online, with an aim to increase purchasing frequency, and has recently been digitised with a new VIP app and improved website. .
The retailer said in 2019/20 that its VIP Me customer base had grown 50% year on year.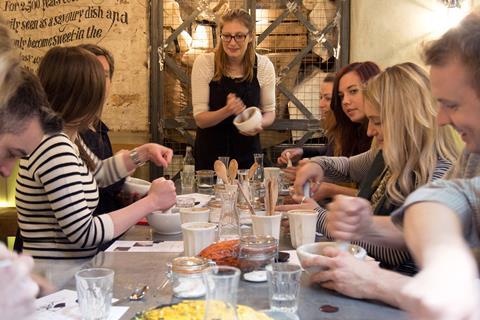 Marketing strategy
Marketing activity geared towards driving brand loyalty
Insourcing all CRM and email activity under CMO Lysa Hardy to improve personalisation
Stores also play a key role in marketing the brand, with cafés and tasting events giving the retailer a good profile on social
Chocolate Tasting Club has some 55,000 members
Brand loyalty is a key driver of Hotel Chocolat's sales and the retailer is recognised as one of Britain's most advocated brands. Loyalty is driven, among other things, by its Chocolate Tasting Club subscription service, which has some 55,000 members.
Following the appointment of Lysa Hardy as its first ever chief marketing officer towards the end of 2018, Hotel Chocolat is insourcing all CRM and email activity to give greater control and improve personalisation. It has also digitised its successful VIP loyalty scheme, which was launched at the end of 2018, by moving it to the Hotel Chocolat app as it looks to drive digital engagement.
Alongside investment into store staff product knowledge, sampling plays a strong role in-store.
Towards the end of 2019, management said it was "determined to step-up further the multi-sensory elements" across the Hotel Chocolat estate. It is extending the range of experiences offered, starting with in-store demonstrations and perpetual product sampling, adding Drinks + Ices for "instant gratification", all the way up to its most immersive experiences, the Chocolate Lock-Ins. Such initiatives are very conducive to being shared on social media.
Social campaigns around peak events are a big part of how Hotel Chocolat engages with its customers.
As an example, its "Day to spread the Love" Valentine's Day 2019 campaign kicked off on Twitter at the end of January, hooking customers in well ahead of the event. Bright red imagery made its tweets unmissable, with links to an article describing why Valentine's Day is celebrated, proving enticing content and taking potential customers straight to the Hotel Chocolat site.
Its experiential stores and tasting events are widely shared on social, with management acknowledging "prolific customer-generated social sharing" as a key factor in its strong performance in recent years.
The retailer also has its own cookbook, A New Way of Cooking with Chocolat, while its website hosts a blog called The Pod, which contains news, recipes and gift ideas, competitions and other features.
See related content from Retail-Week.com