"Not all retail is equal" was the overriding message today from David Atkins, the boss of shopping centre landlord Hammerson.
The property giant attempted to distance itself from lingering fears over the future of large out-of-town shopping centres after posting a respectable set of full-year results.
Hammerson hailed its progress in the 12 months to December 31, 2017, highlighting a jump in profitability, an improved occupancy rate in its malls and retail parks, and the highest level of lettings in its 75-year history as evidence that the future of shopping centres remains healthy.
The company says it has "actively rebalanced" its portfolio in recent years "towards high-footfall destinations in major cities" – locations that Hammerson, and many other landlords, believe can continue to play a role in modern shopping patterns.
Yet the City is seemingly struggling to see things through the same lens.
Hammerson's share price has tumbled almost 11% since it unveiled plans to acquire rival Intu last December – and a lukewarm response to what was a relatively robust set of results on Monday morning saw the stock inch down further to 473.3p by midday.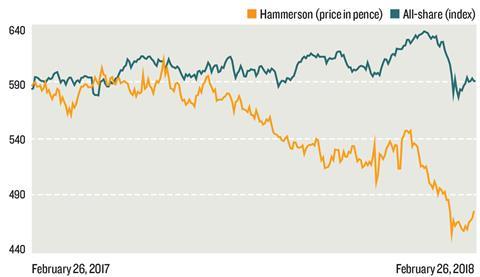 Such a lacklustre stock exchange performance has left Hammerson staring at the prospect of ejection from the FTSE 100.
Jefferies' Mike Prew says Hammerson "looks like a business that has peaked", while Colm Lauder of Goodbody adds the big 39% discount to net asset value at which Hammerson is trading shows the "discomfort with which the capital markets hold for retail property in the UK".
To a degree, it is understandable why the market has reacted in such a manner.
Ecommerce is growing at a pace and playing a leading role in eroding store-based sales.
Increases in business rates and the national living wage are heaping further cost pressures on bricks-and-mortar sites, leaving retailers rapidly reassessing the size and shape of their portfolios.
Fragile consumer confidence and stagnant wages have also convinced shoppers to rein in spending on products and instead direct their hard-earned cash into experiences with family and friends.
"Despite their collective plights, the ringing of any death knell for shopping centres more generally is, at best, premature"
High street victims to such an unforgiving climate continue to fall thick and fast.
Toys R Us is poised to tumble into administration this week, New Look is meeting landlords in the coming days as it seeks to streamline its estate and slash rents, and Maplin owner Rutland Partners is racing to secure a sale of the troubled electricals chain.
Despite their collective plights, the ringing of any death knell for shopping centres more generally is, at best, premature.
Hammerson and Intu are just two of the big landlords ploughing investment into reinvigorating their existing schemes, with the former earmarking up to £550m for its Brent Cross redevelopment alone.
And, although the pipeline of new retail and leisure destinations isn't exactly bursting at the seams, Lateral Property Group lifted the lid last week on bold plans for its Axiom scheme in Yorkshire, which it says will be fit for "the Instagram generations".
Future needs
Harnessing those kinds of ambitions and making them a reality will be key for the future of British malls.
Atkins himself admitted as much this morning, emphasising the importance of "creating the space that today's retailers need to showcase their brands" at a time of "ongoing structural change" in the industry.
"Not all locations are well placed to support the future needs of brands," Atkins suggests, in what he describes as a "polarised retail marketplace".
But Hammerson is leaning into that polarisation, focusing investments into prime locations, resilient out-of-town retail parks and popular outlet centres.
Churning the retail offer with the most innovative brands, enhancing the leisure mix and integrating technology that genuinely enriches the customer experience will ensure shopping centres remain relevant to the multichannel shopper – and ultimately allow the likes of Hammerson to build on the growth it enjoyed in 2017.
Analysts at Liberum believe there is scope for Hammerson to achieve exactly that, maintaining both its 'hold' recommendation and 610p target price.
The City's knee-jerk reaction fails to recognise that vast potential for bricks-and-mortar's retail reinvention.
Luke Tugby is deputy editor at Retail Week.