Etailer Play.com is considering the introduction of a payment-on-delivery offer, which would be a UK first as the retailer looks to offer better customer service under its new owners.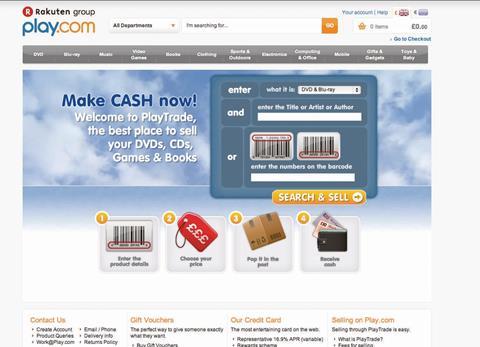 The online retailer, which was acquired by Japanese group Rakuten last September for £25m, said the delivery method was commonplace in Japan.
Play.com marketing director Adam Stewart said: "Shipping issues are the most common reason for cart abandonment in Europe. We only offer a few shipping models. That's alien to Rakuten. We've got to be more flexible to grow."
Rakuten offers the method, whereby couriers take payment on delivery, across Asia. Rakuten originally introduced the delivery method in Indonesia to combat consumer reluctance to pay online. Stewart predicted the method would also cut down on return rates.
He said: "It's not placing risk in the hands of the customer. We'll take it on."
Play's growth strategy has been transformed since it was acquired by Rakuten, which also owns US etailer Buy.com, German retailer Tradoria and PriceMinister in France, as well as its own Japanese operation.
It now plans to grow via its market place, Play Trade, which currently accounts for a third of its sales.
Stewart said: "The original strategy was to increase the categories Play sells in at a phenomenal pace but the Rakuten model is focused on the market place. We will increase categories through what our merchants choose to sell through us rather than creating our own categories."
Global expansion is a critical plank in Rakuten's growth model for its etail brands. The borders will come down across all of its brands' market places, so items sold through Play Trade, which can be accessed from Play.com, will also be sold on Buy.com and Rakuten.com, for instance.
Stewart said: "A small merchant in Coventry could be selling items that he's put on Play.com to customers in Japan."
Play also expects mobile sales to expand ten-fold over 2012 and will drive the change by launching an optimised website and mobile app in March.