Amidst ongoing pressures facing the retail industry, Chris Brook-Carter from the Retail Trust explains why the charity has launched a new fundraising appeal.
The impact of recent HGV driver shortages, and those of other workers, has served as another reminder of how much we rely on the people who keep our shops and services going.
Since the pandemic started, we have all been dependent on essential stores staying open, shelves being stocked, and groceries being delivered, even as millions of people stayed at home and thousands of other companies kept their doors shut.
As we have emerged from the harshest of lockdown restrictions, retailers have dealt with fast-changing regulations to keep their staff and customers safe and happy, and their businesses open.
"So many of our colleagues need our help - 170,000 lost their jobs last year"
I've been working with retailers for over 25 years. I can't imagine ever working in another sector. But as we reflect on these many challenges the industry has met, it is still too easy to forget that this is only possible thanks to the hard work, ingenuity and resilience of the most passionate people of any UK industry.
And now, so many of our colleagues need our help.
In all, 170,000 of our colleagues lost their jobs last year, many more worked through extraordinary financial, physical and emotional pressures, and 200,000 people came to the Retail Trust for help as we handed out £1.2 million in financial aid and ran 11,000 counselling sessions. All painful reminders of the incredible pressures everyone in retail has faced.
Hope, health and happiness
Now we stand at an important crossroads, ready to build back and ensure the incredible work retailers undertook to look after their people in the pandemic is a new beginning and an opportunity to ask ourselves what sort of industry we want to work in, and how we support those who kept the wheels of retail turning in such difficult times.
You may not be aware, but the Retail Trust is the UK's oldest industry-funded charity, founded in 1832 to 'promote the happiness and interests' of those working in our trade. Something I believe this industry should be very proud of.
It shows there is real substance to the well-worn notion that this is the UK's most people-first industry, with a legacy of looking after its own which we now have a responsibility to take forward.
Despite 200 years of service to you and your colleagues, our mission to create hope, health and happiness in retail has never been more needed. We pledge to continue to champion this cause, to bring the industry together around its people, and to empower every individual to take control of their wellbeing.
"Everyone has a part to play"
We're only as strong as this industry's commitment to looking after one another and with it, the future of UK retail. Together, we have a once-in-a-generation opportunity to create an industry that places the health of its people at the centre of how we operate, leaving a legacy that ensures our sector and its people thrive.
That's why we're calling on every retailer and colleague to come together and support our new emergency appeal so we can continue to transform lives for good.
It costs £50 to get someone the counselling they need in a crisis, and £500 can be the difference between someone losing their home or not. So, every pound we raise really does count. You can donate by visiting www.retailtrust.org.uk/appeal, or sign up to our fundraising challenge there too.
Everyone has a part to play, whether you donate, spread the word of our work, or use the Retail Trust to protect your people.
Hope. Health. Happiness. Three words that form a call to arms and a message to everyone working or thinking of working in retail that we care.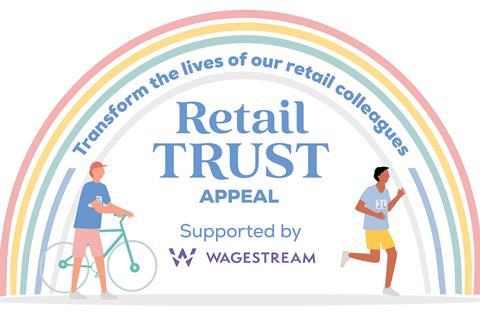 Chris Brook-Carter is chief executive of retailTRUST.