The boss of Mulberry has had a tough two years at the helm and his plans to take the handbag brand more upmarket will be no easy task. By Gemma Goldfingle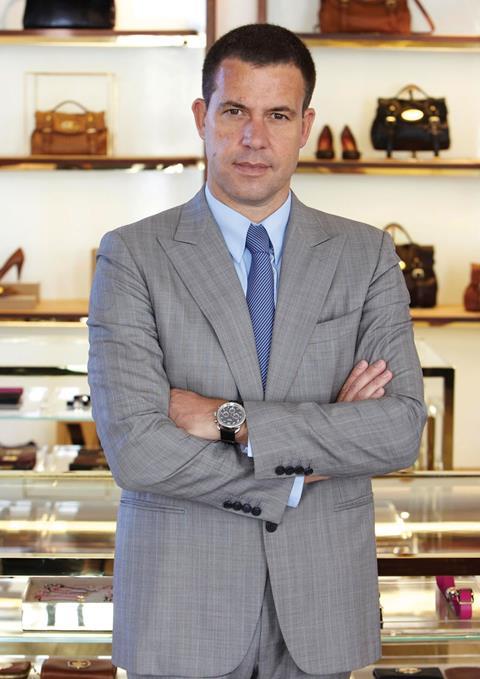 Bruno Guillon has had a tumultuous two years in charge of Mulberry. Since the Frenchman arrived at the handbag specialist profits have slumped. Last week the retailer lost almost a third of its value after Guillon issued his third profit warning since joining the firm in March 2012, after a "tough" Christmas.
Guillon said "substantial discounts" by competitors in the UK hit sales over the festive period. The news comes after he upped prices to move Mulberry more upmarket.
Questions have been asked over the strategy, which appears to be losing the brand's core customer. Luxury sector expert Exane BNP Paribas analyst Luca Solca says Guillon faces a "very, very tough uphill battle".
"Mulberry is a great brand but I'm not sure moving it upmarket is the best or the easiest thing to do. It lacks the credibility to price its products at the high end," says Solca.
The brand is not known for its exclusivity, Solca adds, which is crucial for true luxury brands, and its ubiquitous logo is off-putting to some high-end shoppers.
Mulberry is a great brand but I'm not sure moving it upmarket is the best or the easiest thing to do

Luca Solca, Exane BNP Paribas
He argues the retailer's previous positioning in the "accessible luxury" market is a sensible place to trade because other big brands are also moving more upmarket. "The accessible luxury space is quite big and you have Burberry, Prada and Gucci all moving into higher prices points," he says.
Guillon, however, is very experienced at building luxury brands. He spent more than 10 years at Hermès rising to managing director of its French market and before that was international director for watches and jewellery at LVMH.
However, Solca says repositioning a brand is difficult and to realign Mulberry will require substantial investment. "Brands have roots that are embedded deep in people's minds," he says.
Guillon is investing in fashion shows, marketing and new international stores, including a flagship on upmarket Paris shopping street Rue Saint-Honoré. He is also trying to further improve quality and has opened a new factory in Somerset to move more production from China to the UK.
However, Guillon's rebranding is understood to have caused divisions within Mulberry and is thought to have led to much-respected creative director Emma Hill's departure late last year.
The exuberant Hill was credited with rejuvenating the brand. She was behind the iconic Alexa bag, named after model and TV presenter Alexa Chung, which became the 'it bag' when it launched in 2009 and led to Mulberry becoming one of the fastest growing brands on the planet. It also successfully launched the Del Rey design, named after singer Lana Del Rey.
Career history
2012 to present Mulberry, chief executive
2001 to 2012 Hermès, various roles, latterly managing director, Hermès France
1998 to 2001 LVMH Group, international director, watch and jewellery division
1995 to 1998 Nina Ricci International, area manager North and South America, Asia
The Mulberry brand has been sought after by young celebrities including Harry Potter actress Emma Watson, supermodel Cara Delevingne and actress Kristen Stewart. But celebrity influences may jar with Guillon's strategy to move Mulberry more upmarket.
However, Hill's departure has hit the brand and Conlumino analyst Maureen Hinton says finding a new creative director will help give it "clear brand definition" to justify higher prices.
Guillon says Mulberry will replace Hill in the next two months.
Moving the brand upmarket is only part of Guillon's strategy. He was brought in with the mission to expand Mulberry overseas, emulating the success of British brands such as Burberry.
Despite its popularity, the majority of Mulberry's sales still come from its domestic market. Only 12% of sales come from the Asia Pacific region compared with 29% of luxury market sales as a whole.
Guillon is well practised at building international brands and has led businesses in France, Spain, the US, South America and Asia.
Growth in the Far East could help offset the competitive UK marketplace but building an overseas business takes time and money.
Guillon has recently loosened the purse strings, investing in 15 stores last year, and plans are in place for a similar number this year but so far this has not been supported by sales.
It would appear Guillon has a lot of excess baggage to deal with before Mulberry can return to growth.