New Aurum chief executive Brian Duffy hopes to give the jeweller added sparkle.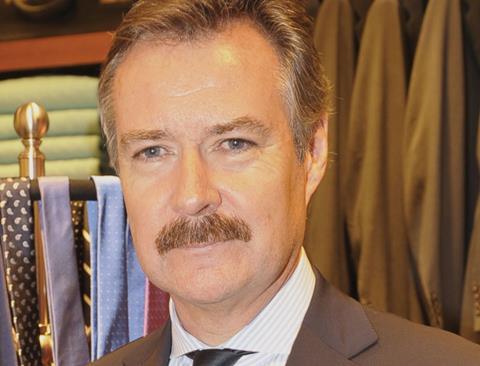 Jeweller Aurum hired former Ralph Lauren EMEA president Brian Duffy as its new group chief executive last week and the fashion industry veteran appears fired-up for the challenge.
"It ticked all the boxes," he tells Retail Week over the phone from company headquarters in Leicester. "When I left Ralph Lauren in March 2012, I wanted to move to a private equity-backed company. I like that environment - it's uncomplicated, straightforward and aggressively ambitious.
"[Aurum] is a business I've always admired as a shopper, it's in a strong market and I'd heard it has a great team, which has proved to be the case."
Duffy also appears to fit the bill for Aurum and its brands, which include Goldsmiths, Watches of Switzerland and Mappin & Webb.
The 59-year-old brings with him a wealth of fashion experience as he takes up the role, replacing Justin Stead, who had held Aurum's top job for six years and leaves to pursue new interests.
Duffy grew up in Glasgow and his mother and father were a teacher and a firefighter respectively. An ambitious character, he took up a role with accountancy firm KPMG in 1976 as a chartered accountant before he joined Polaroid and then Playtex.
While at Playtex he held senior roles in the UK, France and the US and led the launch of the Wonderbra and its accompanying 'Hello Boys' marketing campaign to widespread acclaim.
However, he left the business, which had been bought by the Sara Lee Corporation, after a difference of opinion over strategy.
I often spent my mornings learning guitar among hungover young musicians and afternoons having lunch with bankers in the City
At that point, Duffy made an unusual decision, which typifies his positive character. Keen to fulfil a lifelong desire to learn the guitar, he began a course at the Academy of Contemporary Music in Guildford.
"It was a surreal experience. I was keeping my eye in on the business side, so I often spent my mornings learning guitar among hungover young musicians and afternoons having lunch with bankers in the City," he says.
He was tempted away from the music room by Ralph Lauren - who he remains in touch with - in a role in which he presided over a raft of prestigious European launches including the opening of a store in Moscow in 2007 and a flagship store and restaurant on the Boulevard Saint-Germain in Paris in 2010. "I had to eat plenty of times at the restaurant, including steaks from Ralph's farm in Colorado," he laughs.
Duffy is keen to get back in the driving seat after two years away. "We are not short of opportunities for our brands, which are strong in a market which is also strong," he says. "The problem is not coming up with prospects for growth but deciding our priorities."
He is also enthusiastic about Aurum's opportunities to expand in London, with a new 16,000 sq ft Watches of Switzerland flagship store that will "set a new standard for retail service and experience" when it opens in June 2014.
Duffy believes Aurum has the potential to expand its business overseas and has the luxury markets of Europe and Asia ultimately in his sights.
Aurum is owned by private equity firm Apollo and achieved 7% growth in profits to £12.9m and a 6.8% like-for-like rise in the year to February 2013. However, Duffy says he is not party to any exit plans from its owner.
"It's for the shareholders to determine our future. With private equity there's always a presumption of an exit at some point but there's no immediate plans that I know of," he says.
Away from the day job, Duffy is also on the board of his beloved football team Celtic. He travels the world following the green and white hoops and sits on the club's board as a non-executive director.
With a raft of diamonds among the armoury of his new business, Duffy will be keen to ensure sales continue to sparkle as he takes the reins.
Career history
2014 Aurum, group chief executive
2010 to present Celtic Football Club, non-executive director
2008 to 2012 Polo Ralph Lauren, EMEA president
2003 to 2008 Polo Ralph Lauren, chief operating officer
1999 to 2002 Sara Lee Courtaulds, chief executive and corporate vice-president