A recent Retail Week roundtable in partnership with Unum discussed the impact of workplace wellbeing on staff loyalty and engagement.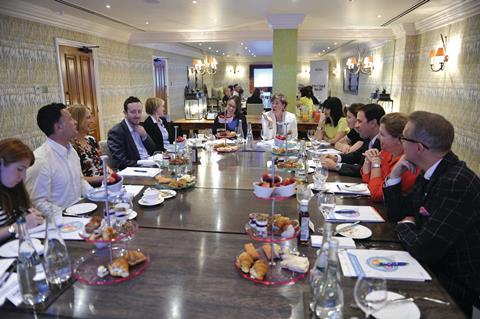 Advertising feature
This is an advertising feature in partnership with Unum
What can retailers do to look after their employees better and increase staff loyalty now and in the future?
This was the question debated by HR bosses at a roundtable hosted by Retail Week and leading financial protection specialist Unum last month. Helen Miller, director of talent and development at Shop Direct, shared her experiences of attracting and retaining staff at a retailer that is going through a period of considerable change. (see box)
What is wellbeing?
How companies define wellbeing for staff has a direct effect on how attractive those businesses are to employees, the attending HR directors agreed.
John Lewis is well-known for operating as a partnership, which HR director for the John Lewis Partnership Isabel Bennett said ingrains staff wellbeing into the business.
"Wellbeing is very holistic for us; can we create successful and meaningful employment for partners?" she asked.
"That is our aim."
John Lewis attempts to improve employee wellbeing through initiatives as varied as learning opportunities, advertising all positions so that employees can apply for new roles, and a health community that provides support for staff. "Some of these ideas are simplistic, but they are part of our DNA," Bennett said.
Selfridges also takes a comprehensive approach to employee wellbeing. It starts with the question: how do you feel? Selfridges group HR director Maria Stanford said: "We approach the wellbeing of an individual – do I feel cared for, do I feel safe, do I have the tools to do my job, am I treated well by my line manager? There is no single thing, it's a number of things coming together that we define as 'how do I feel?'"
Encouraging cross-functional collaboration was something all the retailers were keen to do more of, but finding ways of making this a reality is a challenge.
"We are looking at a bonus scheme that includes category bonuses for merchandisers and buyers in the same category," said Paperchase Products HR director Simon Howes. "For them, part of their bonus will be paid on the achievement of the same KPI that applies to both functions, so they work collaboratively."
Other retailers are working on schemes where colleagues nominate each other cross-functionally, or specifically reward collaborative working.
Improving retention rates
The retailers in attendance all agreed that looking at ways to improve their retention rates, particularly within retail teams, is vital.
"We're doing quite a lot of work to identify who our talent is, then considering how we retain those people," said Hobbs' HR manager for head office and HR operations Mark Smeaton.
One way to retain good people is to offer training, but Hobbs is also considering the career development of its staff to ensure they are personally developed, he adds.
But is there a virtuous circle for retailers when it comes to staff retention and the benefits businesses offer their retail teams? "Our research suggests retail lags behind many other industries when it comes to employee benefits. How much of this is because the staff turnover is so high?" asked Unum's chief marketing officer Marco Forato.
Many of the retailers agreed that benefits for their retail teams needed some attention, but also suggested younger workers want something completely different in terms of employee benefits compared with other generations of workers.
What Generation Y wants
"Our senior employees had life insurance and the hard financial benefits, which are really important to them," said Hobbs head of HR Jacqueline Rouse. "For Generation Y they cannot see the worth in it, so for us it's about finding a benefits platform or a benefits piece that makes them feel it's a great place to work based on what's important to them."
This is the experience of many retailers who are looking for a way to incentivise younger workers while also offering more traditional benefits to those who want them. "Our retail teams are younger; benefits for them are far less important," explained Ann Summers people and systems executive director Gary Burgham.
"What they like are incentives, they like things that money can't buy as well as financial rewards."
One incentive Ann Summers offers is an invite to an event hosted by its boss Jacqueline Gold at her home.
This shift in attitudes is reflected by the change in benefits packages offered by employers too.
"When it comes to rewards and benefits it used to be a one-size-fits-all approach, but people are moving more and more into making it voluntary, or employers are going from being the provider to providing access for employees," said Forato.
But Burgham also cautioned against only incentivising staff during the good times. "You can sell things in which have great intentions, but when we get busy, it's as if all of those great intentions are sidelined because it's busy. There is a battle to say this is the time you need to make people feel more special because, this is when they will be working exceptionally hard for you."
Ensuring staff don't burn out is also vital during times of intense change.
"To avoid this we have focused on prioritising, having a clear purpose and the strategic plans we have in place," said Miller.
"If it doesn't align to one of those things, we shouldn't be doing it. Having the confidence and bravery to say, if we are going to transform, it also means we are going to have to stop doing lots of things as well. That comes from the leadership team."
Dealing with change
Much of this goes back to making sure all employees understand their role in the businesses' growth. But getting employee buy-in can be much more challenging for retailers that have been though a lot of change in recent years.
Mothercare has recently welcomed its third chief executive in as many years, which causes difficulties when it comes to employee buy-in. But Mothercare HR director Claire Nash said: "It's exciting to have some investment and energy back in the business."
As employers continue to fight for the attention of Generation Y, incentives, benefits and wellbeing will become more important.
"Generation Y care about their communities, they care about working for a responsible and ethical employer, they care about their development, so it's a smart commercial decision to focus on wellbeing to attract great talent," summed up Miller.
How Shop Direct is working to improve staff wellbeing
People moved to the top of the agenda when Shop Direct started on its journey to become a world-class digital retailer around 18 months ago, and the business is on a mission to attract and retain the best talent in the industry.
"We had to make the values more than just a poster on the wall," says Shop Direct head of talent and development Helen Miller. "Now they are not just aspirational but reflective of who we are and who our people are."
The etailer invested in making this a reality through a series of new incentive schemes, initiatives and social media platforms that recognise employees' contribution to the company based on its values and purpose.
"The people plan is based on four main pillars. Being a purpose and values-led business, releasing the potential of all employees, attracting the best talent from wherever they may come from in the UK or around the world, and creating that great place to work," Miller says.
Initiatives include Shine, which gives employees of all levels rewards in the form of points and prizes for doing work that is aligned to Shop Direct's values and purpose. It also helps the business deliver its ambition.
The leadership team worked to first articulate what it means to be a good leader at Shop Direct, then considered how that translated into behaviours. "The leaders need to help release the potential of people in the business, not just through setting and stretching targets, but by looking after your teams in this challenging three-year period," Miller says.
The company also focuses on employee wellbeing through working with local communities and through the Shop Direct Foundation, which works with charities.
"The power of our colleagues to have a positive effect on the local community has been eye opening; these are the people who are going to transform our business," says Miller. "This all helps employees get a sense of wellbeing and belonging."
The Future Workplace report
Workplace wellbeing will need to adapt significantly in the future as the workplace itself evolves. This was the focus of Unum's new report, The Future Workplace, which investigated the social, cultural, economic and technological forces shaping workplace care.
One of the areas of focus was on the ageing population and the effect this will have on the future of wellbeing. Is the trend going towards an 'ageless workplace'? If so what does that mean for retailers?
The nature of some roles in retail might be well suited to older people who still want to work but perhaps not as many hours, while Generation Y don't expect to stay in their roles very long.
Other areas the report focused on were the rise of the mindful workplace, which has seen workers turning away from their digital lifestyles; the intuitive workplace, where the needs of workers are considered much more by employers; and the increasing importance of creating a collaborative workplace.
To download the report click here