While diversity is often touted as being top of the agenda for businesses, the statistics reveal a different, rather more depressing, reality.
Just 3% of FTSE 100 chairs, chief executives and chief financial officers are from ethnic minority backgrounds, according to headhunter Green Park, which published the information in its Leadership 10,000 report last year.

And with current diverse talent pipelines looking bare – ethno-cultural diversity in senior non-management roles decreased in nine out of 15 sectors last year, according to the same report – the UK is not set to reach its target for every board to have at least one ethnic minority member, a target originally set for 2021, until 2066.
Businesses should be matching their words with actions. Diversity is important in every business not just because of the moral imperative of ensuring equal opportunities but because of the business benefits it has been proven to bring.
More culturally and ethnically diverse executive teams are 33% more likely to produce better-than-average profits, according to McKinsey.
Reflect your customer
In retail, however, ensuring a diverse organisational make-up is more crucial than in many other sectors. Businesses need to reflect their customer base and no customer base is more diverse than that of retail.
Shoppers care about diversity. Nearly half (41%) of consumers favour retailers that can demonstrate their commitment to diversity and inclusion, according to Accenture.
"Diversity must be something that is lived and breathed by businesses for it to be genuine"

Suki Sandhu, Audeliss
Understanding different segments of the population and being able to get into different customer mindsets is key to business success and is crucial at a time when the wider economic environment and socio-political upheaval combine to depress consumer demand.
Green Park senior consultant Nicola Paul says: "Retailers are saying it's tough out there, but they need to think about employee make-up to determine customer needs. To me, it seems like an obvious thing to do – and it is becoming more obvious to more retailers too."
What's more, if shoppers care about diversity, this indicates that employees feel the same way.
Suki Sandhu, founder of diverse recruitment agency Audeliss, believes businesses must acknowledge this or risk losing out on great talent across the board.
"Diversity must be something that is lived and breathed by businesses for it to be genuine," he says. "If the business is simply paying lip service to it, any claims of being a diverse and inclusive employer will fall on deaf ears. It is important to embody it."
Ethnicity pay gap
We've seen a big push to rectify the gender imbalance in business, with initiatives like gender pay gap reporting shining a spotlight on those businesses and sectors where a pay discrepancy exists. Now the government is debating introducing mandatory reporting on the ethnicity pay gap.
This gap undoubtedly exists. Think tank Resolution Foundation says black, Asian and ethnic minority employees lose out on £3.2bn a year in wages compared to white colleagues doing the same work.
The biggest discrepancy in pay exists in graduate-level males, with black male graduates earning 17% less than their white counterparts, according to Resolution Foundation.
"Gender is a lot easier to capture and calculate and we question how ethnicity data can be made meaningful"

Fionnuala Horrocks-Burns, BRC
This data has not been split into industries, but experts predict the gap in retail will be wide.
"The structure of retail organisations is essentially a pyramid with a very wide base," says BRC employment and skills policy adviser Fionnuala Horrocks-Burns.
"The bulk of roles are on the shopfloor or in the distribution centre. Because that base is so much wider than in other industries there will be a knock-on effect in terms of how representative and diverse those layers are when progressing up the pyramid."
While there has been an improvement in boardroom diversity, most chief executives are still white and male. And while most boards will feature at least one woman, individuals from ethnic minority backgrounds often do not feature at all, as the fact that just 3% of FTSE 100 leadership is from a non-white background shows.
How easy will it be to report the ethnicity pay gap?
The government might only be consulting on introducing ethnicity pay gap reporting at this stage, but experts believe it will be introduced. However, observers including the BRC have raised concerns over how the gap will be calculated.
"We do not have an issue with greater transparency but with how this data can be captured," says Horrocks-Burns. "Gender is a lot easier to capture and calculate and we question how ethnicity data can be made meaningful."
The BRC asked retailers how they capture data on employees' backgrounds as part of its response to the government's consultation.
"Gender pay gap reporting doesn't solve the problem overnight but it brings the issue to the fore and people talk about it"

Kathleen Henehan, Resolution Foundation
"Nine out of 10 retailers ask for voluntary disclosure of a person's ethnicity while some don't ask at all," says Horrocks-Burns. "So there is a big question over how you get a figure that means anything. For this to be of value, it would need a long lead time."
Green Park's Paul says meaningful conclusions would necessitate layers of complex analysis.
She gives the example of most people from an ethnic minority living in metropolitan rather than rural areas. People in cities and large towns tend to be better paid to reflect the higher cost of living, and this could mask how poorly BAME workers might be paid compared to their white counterparts in similar locations.
Horrocks-Burns says the government needs to consider intersectionality before introducing ethnicity pay reporting.
"While pay reporting like this can be helpful, what we cannot see is where areas of diversity overlap. We need to ensure that age, for example, does not hide pay discrepancies and to make sure that stereotyping doesn't continue because of how pay gaps are reported."
While there may be innumerable problems with how to determine the ethnicity pay gap, Resolution Foundation research and policy analyst Kathleen Henehan believes simply having the conversation is an improvement.
"Gender pay gap reporting doesn't solve the problem overnight, but it brings the issue to the fore and people talk about it," she says. "For me, that's a clear reason to pursue mandatory reporting."
While mandatory reporting is not yet a given, retailers should be striving to close the ethnicity pay gap whether it comes into force or not: the business and societal benefits are clear.
Closing the gap
It is clear that retail, like many industries, has a problem with ensuring that diverse talent reaches the upper echelons of an organisation.
Dunelm stores and people director Amanda Cox, an ambassador of Retail Week's Be Inspired campaign, believes organisations should make sure their approach to diversity and inclusion is specific to their culture and issues and avoid being generic.
"You need to first understand what your organisation's needs are and what is stopping diversity coming through," she says. "The danger comes when a business tries to do a catch-all programme and does not understand its individual culture and problems.
"Understand the blocker and fix it. If the issue is 'I don't see enough role models' then begin to correct that. When I began my career as a store manager, only 9% of us were women. We are now pretty much 50/50."
While it is important to stress that there is no one-size-fits-all solution, there are common strategies and tactics that can improve diversity and inclusion.
"I would encourage businesses to speak proudly and sincerely about where they see gaps," says Paul. "It is a lot more powerful to see a company admitting that it could do better – explaining that story and being unapologetic about wanting to improve – than to see a company ignoring the problem."
"Appointing a diverse hiring panel made up of those from various backgrounds within the business is a simple yet highly effective way to attract diverse applicants"

Suki Sandhu, Audeliss
For those companies that have identified issues in attracting a diverse range of applicants, small-scale tactical approaches include ensuring that graduate recruitment efforts at universities reflect diversity and inclusion aims, whether that is sending a diverse range of employees to recruitment fairs or making sure that imagery and messaging on supporting materials sends the right tone.
"Some job adverts put off women or those from ethnic minorities from applying for jobs," says Sandhu. "So subtle changes such as replacing 'manage' with 'develop' can make a difference.
"Appointing a diverse hiring panel made up of those from various backgrounds within the business is another simple yet highly effective way to attract diverse applicants. Equally, having diverse mentors throughout your team is important for your long-term attraction strategy too."
While the practice of asking recruiters to include diverse candidate in their search is becoming more established, some businesses are also ensuring that this is the case on internal leadership programmes' long- and shortlists.
Progression and retention
When it comes to attrition, businesses need to analyse the data they already have at their fingertips – such as annual employee satisfaction surveys – as well as ensuring their leaver surveys give room for issues to come to the fore.
If a certain ethnic group is generally more satisfied than another or men are happier at work than women, a business may need to begin to work on certain aspects of its culture.
"Once you've made incremental efforts to improve the levels of diversity within your corporation, the last thing you want to do is lose that talent to your competitors," says Sandhu.
"This goes for all types of employees as well, not just diverse candidates. While more emphasis is being put onto hiring diverse candidates, normalising the working experience for diverse candidates is important too.
"However, more can be done to educate non-diverse employees to ensure an inclusive environment. Diversity training and teambuilding events are important to ensure internal relationships are positive. Most of all, highlighting an internal progression plan and offering upskilling and training programmes to all candidates is crucial for retention."
John Lewis, which has just appointed its first-ever non-white, non-male chair in Sharon White, is targeting 10% of its management coming from BAME backgrounds, an aim which was established in 2014. The partnership has now nearly reached that goal with BAME partners comprising 9.6% of management.
"There are various ways we have set about improving the representation of BAME managers in the partnership including bias training, diverse recruitment panels and our UNITY Network," the business said.
It currently runs eight networks aimed at inspiring and influencing partners on inclusion, most of which are sponsored by senior figures such as John Lewis finance director Bérangère Michel.

Don't oversimplify
It is important to ensure that conversations and actions around diversity are well-rounded, says Dunelm's Cox.
"Diversity can come in many guises and the danger always of trying to single out one aspect is that it doesn't reflect how people actually think about diversity," she says.
"Society is leagues ahead of how diversity is being measured. We need to think beyond gender, ethnic diversity and sexuality. If you have that diversity you are more likely to have diversity of thought, but if those people are all the same age and come from the same background then it doesn't matter so much."
"It's not good having a room full of white people decide what happens with ethnic minority policies and initiatives"

Nicola Paul, Green Park
Ultimately, Paul says, what unifies businesses approaching diversity correctly is a willingness to have difficult conversations.
"People look at ethnicity as a risk," she says. "They are scared to discuss it incorrectly both internally with colleagues and externally with customers and so they miss out: both on talent – which there is a war for right now – and with consumers."
The starting point, she says, is getting past the initial tough conversations – while making sure the right people are in the room.
"It's not good having a room full of white people decide what happens with ethnic minority policies and initiatives," she says.
"The companies that deal with this correctly are having difficult conversations and those conversations are being had at the board table. It doesn't matter if you are the commercial director or the HR director, those conversations should have an impact on your day job."
The ethnicity pay gap is the result of myriad socio-economic factors, many of which cannot be fixed overnight. This makes it even more important for retailers to act on those they do have the power to change, whether that be recruitment practices or internal networks.
Mandatory reporting will shine a necessary light on this issue – retailers need to act now to ensure they are doing the most they can to close the gap.
Retail Week Be Inspired conference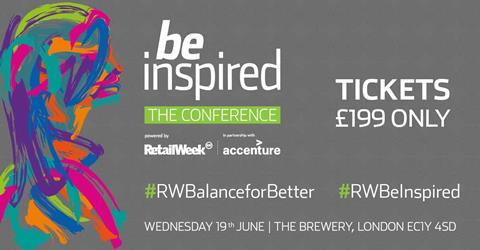 Retail Week's Be Inspired conference takes place on June 19 at The Brewery, London. More than 1,000 retailers will gather to debate the challenges and solutions to diversity and inclusion in retail.
Speakers include Melanie Eusebe, chair and founder of the Black British Business Awards, who gives a keynote presentation, 'We need to talk about diversity', about how retailers need to have braver and more open discussions around the underrepresentation of BAME employees and recognise biases.
Eusebe is one of more than 25 speakers and an agenda spanning content, workshops, mentoring sessions and more.
Secure your spot here today.