As Retail Week reveals the winners of the PayPal Etail Awards, Laura Heywood looks at why etailer Appliances Online scooped three awards on the night.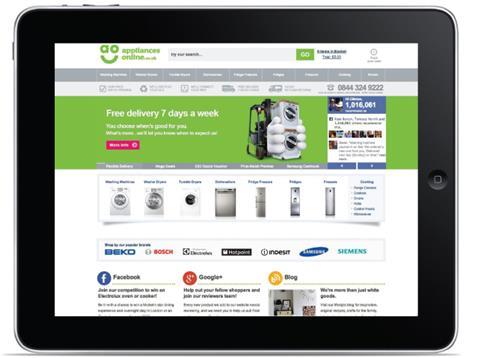 The online battleground is hotting up as a mounting number of retailers, from start-up pure-plays to established multiples, put innovation at the heart of everything they do. The PayPal Etail Awards, run by Retail Week and sister title Drapers, recognises those game-changing businesses that are consistently excelling in the etail and multichannel sectors.
Chosen by a judging panel comprising some of the UK's best-known ecommerce leaders, the winners were revealed at a glittering awards ceremony held at Old Billingsgate on Wednesday.
One company that stood head and shoulders above the rest was white goods retailer Appliances Online, which scooped two individual awards - Shopow Best Use of Social Media and Chase Paymentech Best Large Pure-Play Etailer - along with the prestigious PayPal Overall Award for Excellence.
Revamp reaps rewards
In the past year, the appliances etailer has undergone a rebrand and website revamp, resulting in a 48% year-on-year increase in sales and a 46% jump in site traffic to more than 10.4 million visitors. In the last quarter of 2012, total sales were up 52% year on year.
Owned by etail group DRL, Appliances Online was set up in 2000 by former Moben employee John Roberts, who teamed up with ecommerce professional Alan Latchford and distribution firm owner John Dutton. Their strategy was simple: to cut costs for consumers by taking layers of supply out of the electricals retailing market while ensuring first-rate service and speedy delivery.
Making purchasing as easy and efficient as possible has been Appliances Online's focus over the last 12 months.
It has implemented changes to the user experience, including improved page loading speed from eight seconds to four seconds; updating the top navigation bar, which has reduced the rate of exit by 25%; and integrating Facebook onto its site, which has delivered an uplift in conversion rates.
Website optimisation improvements have also resulted in a surge in sales via tablets.
Initiatives designed to make purchases and returns easier for the customer have been introduced. They include an extended 10pm cut-off for next-day delivery in order to help customers buy and receive their appliances at a time convenient to them, and a 10-day 'no fuss' returns policy.
Videos boost purchases
Investments have also been made in video content in an effort to better support the customer in the decision-making process. In 2012, the site featured more than 2,000 video product demonstrations and 400 feature animations.
Customer satisfaction is at an all-time high, according to Appliances Online, which says that, on average, products rate four out of five, and 98% of customers would recommend the website to a friend.
The judging panel applauded Appliances Online's rate of growth over the past year, describing it as "amazing in a difficult sector".
"It has made the white goods sector personal, engaging and the fact that customers interact with the brand is a great credit to the etailer," the panel said. Impressed with the product videos featured on the site and the 10pm cut-off for next-day delivery, judges concluded that Appliances Online had "absolutely nailed it".
Harnessing social media to boost sales
Using Facebook as its chief social media platform has enabled Appliances Online to better engage with customers. Through bespoke content, competitions, conversations between company spokesmen and consumers, sponsored stories, places for consumers to upload product videos, and apps, the etailer increased customer engagement on its Facebook page from 4% to 15% in 2012.
In the second half of 2012, 500,000 people liked Appliances Online's Facebook page in five months. Through Facebook alone it achieved a 60% boost in branded search traffic, which directly resulted in a 58% increase in sales, according to the etailer. Its Facebook community also increased by more than 500% in the same period.
Implementing Facebook advertising enabled the etailer to reach new fans and customers, and helped deliver 3 million page impressions every week. Appliances Online also capitalised on positive feedback made by users on Facebook by integrating a customised 'Comments that Made us Smile' widget onto its main site.
Judges praised the etailer for making its Facebook campaign "fun and engaging". "To get customers to become advocates by uploading their own videos is amazing, especially for a retailer in the white goods category," the panel added.
PayPal Etail Awards 2013 winners
Appliances Online scooped three awards: Shopow Best Use of Social Media; Chase Paymentech Best Large Pure-Play Etailer; and the PayPal Overall Award for Excellence.
Best Re-design/Relaunch
Winner: Dune Dune Group's website relaunch ticked every box for the judges by combining a technical upgrade with a new front-end design. "Combining a number of sites on one platform gave each brand an upgraded feel," the panel said.
Digital Marketing Campaign of the Year
Winner: Very Judges applauded fashion etailer Very for creating an integrated and slick cross-channel campaign operated across its site, TV and mobile. "The campaign had a very significant impact on business and created great customer engagement," they said.
Highly commended: Chocolate Clothing
Torque Best Use of Innovation
Winner: Topshop Bringing the catwalk to shoppers' doors resulted in Topshop winning the innovation category. "It meant shoppers didn't all need to go to London Fashion Week because it delivered the trends directly to them, giving every customer accessibility," judges said.
Best App
Winner: Mothercare Judges praised Mothercare's app for its innovation and creativity. They said it combined educational and practical elements with novelty features. The panel observed the app has "a bit of everything" and gave customers something they cannot get on Mothercare's main website.
PayPal Best Mobile-Optimised Site
Winner: John Lewis An excellent customer experience, solid social media integration and clear branding made John Lewis' site a standout winner. Judges said: "It is its simplicity that makes it so strong."
Highly commended: Reiss
Best Customer Service
Winner: Morrisons Morrisons has come up with a unique way of selling wine through its Morrisons Cellar site, according to the judges. The site was said to be engaging and well tailored to its customers.
Highly commended: Schuh
Best Small Pure-play Etailer
Winner: Loaf A strong brand proposition, successful rebrand, and an easily scalable business helped furniture etailer Loaf scoop the Best Small Pure-play Etailer accolade. The panel thought that Loaf is clear about what it is and why customers should shop there, and has implemented social media well into its strategy.
Success Appointments Best Small Multichannel Retailer
Winner: Childrensalon A clear winner, judges said Childrensalon's site is "beautiful, easy to use and ideally suited to its customer base".
Highly commended: Mish
Clipper Logistics Best Large Multichannel Retailer
Winner: Argos Judges felt Argos' approach to multichannel retailing was seamless and slick. They praised its joined-up multichannel strategy which utilises its store network and online capability.
Highly commended: Tesco
The Consumer Choice Award
Winner: Amazon In this category, consumers were asked to judge ease of use and site navigation, customer service, design and layout, and the checkout and delivery process. Price, quality and online selection also came into play in the consumer poll in which Amazon came out on top.