A new diagonal pedestrian crossing on London's Oxford Circus will be unveiled this morning, in time for the busy Christmas trading period.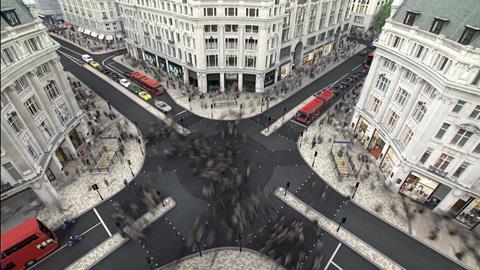 The £5m makeover, designed to ease overcrowding, will allow shoppers to cross the busy intersection diagonally as well as straight ahead, meaning the junction will be able to handle twice the number of pedestrians.
Barriers and traffic lights have been "ripped out and remodelled", giving the 200 million people that visit each year 70% more freedom to move.
The new development, which has been influenced by Tokyo's Shibuya crossing, will also see half a kilometre of Regent Street and Oxford Street redesigned with wider pavements and new lighting.
The new crossing has been jointly funded by The Crown Estate, which owns Regent Street, Transport for London and New West End Company.
Mayor of London Boris Johnson, who launches the event this morning, said: "Being able to cross in an oblique rather than a perpendicular fashion will make Oxford Circus incredibly more efficient for the millions of pedestrians and road users that use the crossing every year."
Chief Executive of The Crown Estate, Roger Bright, said:"This represents the biggest single improvement for West End pedestrians seen in the last 50 years and means that the gateway to Regent Street will be truly fitting for Europe's premier shopping destination."
Chairman of New West End Company Dame Judith Mayhew Jonas said: "We are delighted this important project has been completed just before the start of the busy Christmas shopping period with over 40 million shoppers visiting our district over the next six weeks. What a great early Christmas present for them all."