As the UK prepares for the general election Retail Week looks to the high street to choose a Cabinet for store owners and shoppers.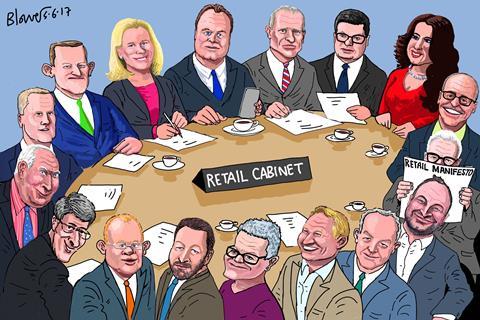 Prime Minister: Dixons Carphone chief executive Seb James
The ebullient chief executive of the Dixons Carphone empire is sure to make an excellent Prime Minister.
Having successfully merged Carphone Warehouse with Dixons, James would be well placed to combine the thwarts and interests of both brexiteers and remainers to create a unified superpower.
With his gift for public speaking and sunny disposition, he'd be sure to put an optimistic twist on whatever the nation was facing.
James is well-versed in the world of politics – and his fellow Bullingdon Club alumni, David Cameron and Boris Johnson, are sure to lend a hand.
Chancellor: Tesco chief executive Dave Lewis
Lewis' record at Tesco suggests he has the skills required to manage the country's finances. The former Unilever exec has run a tight ship at Tesco, protecting and strengthening the grocer's balance sheet while establishing capital-light methods to grow the core UK business.
Partnerships have been struck with the likes of Arcadia and Holland & Barrett, while it has sold off underperforming divisions including Dobbies Garden Centres and its Turkish Kipa fascia to free up cash for reinvestment.
Minister for leaving the EU: Next chief executive Lord Wolfson
One of the most prominent business people to support the case for leaving the European Union, Next boss Wolfson has since said that he believes it was the right decision for Britain.
Wolfson is well known for providing stable leadership during tough times and could help promote the UK interests during what is sure to be a difficult couple of years.
Education, Women and Equalities Secretary: Ann Summers chief executive Jacqueline Gold
Few in business are as outspoken on women and equality than Ann Summers boss Gold.
An active ambassador of Retail Week's Be Inspired campaign, which aims to encourage and inspire women in retail, Gold also runs her Women On Wednesday – or #WOW – Twitter campaign where she retweets details of businesses run by female entrepreneurs to her 58k followers.
Business, Energy and Industrial Strategy Secretary: Theo Paphitis Retail Group founder Theo Paphitis
Paphitis is one of the most well-known businessmen in Britain.
A self-made millionaire, Paphitis has revived the fortunes of many a retail business, including Ryman, Partners the Stationers, Stationery Box, La Senza, Contessa Lingerie and, more recently, Robert Dyas.
A big advocate of apprenticeships, Paphitis is sure to invest in developing skills to prepare the UK for the 21st-century, tech-enabled industrial revolution, and will undoubtedly bring his boundless energy to the role.
International Development Secretary: Ted Baker chief executive Ray Kelvin
Kelvin knows a thing or two about international development.
The majority of Ted Baker's stores are now found outside the UK and in the past year, it launched in Azerbaijan, Bahrain, Dubai, Egypt, Indonesia, Mexico, Taiwan and Vietnam.
Kelvin has built an overseas empire and successfully translated what makes Ted special across many countries. Imagine what he could do with Brand Britain overseas.
Work and Pensions Secretary: Rowan Gormley chief executive Majestic Wine
Gormley has put the happiness of his employees at the heart of his strategy. Last year, the retailer became an accredited living wage employer, while Gormley handed a £7m shares bonus to almost 500 employees.
Store managers have also been turned into partners, allowing them to run their own shops and earn a percentage of their store's contribution.
Culture, Media and Sport Secretary: Waterstones chief executive James Daunt
Daunt, boss of Waterstones and owner of Daunt Books, is well placed to look after the country's cultural interests.
Waterstones looked set to be trampled by online giant Amazon and the proliferation of Kindles and e-readers when Daunt was parachuted in to save it from obscurity.
Through his emphasis on the in-store experience and events, as well as a resurgence in physical books, he has ensured literature remains on Britain's high streets.
International Trade Secretary: Asos chief executive Nick Beighton
As 57% of Asos' retail revenues comes from outside the UK, chief executive Nick Beighton is well-placed to ensure that Britain gets a good deal from international trading partners.
The etail boss told Retail Week that ensuring tariff-free trade with the EU and other trading nations was one of the top three priorities when negotiating a Brexit deal.
Beighton also sits on the EU Ecommerce Task Force, ensuring that he would have the inside track on what the industry needs from the union.
Health Secretary: Boots UK managing director Elizabeth Fagan
Since her arrival last year as the boss of health & beauty bellwether Boots, Fagan has made some tough decisions to ensure the business' long-term health such as closing 220 of its in-store photo labs at the expense of 400 jobs.
Astute decision-making and prioritising some services over others is critical for an NHS that works within a confined budget.
Communities and Local Government Secretary: The Co-op chief executive Steve Murrells
No retailer can claim to do more for the communities it serves than the Co-op.
New boss Murrells was instrumental in the re-launch of the mutual's membership scheme, which gives 1% of every pound spent on own branded products back to charitable organisations.
The business has already handed £9m to 4,000 local causes since September.
Transport Secretary: Sainsbury's Argos chief executive John Rogers
Rogers, with his vast Argos delivery network, is well-versed with the world of transport. The retailer's FastTrack same-day delivery service is a key strength for the retailer and has helped it square up to Amazon.
What's more, he took Retail Week out on the road with him in an Argos FastTrack van so we know for a fact he's trustworthy behind the wheel.
Defence Secretary: Asda chief executive Sean Clarke
Asda boss Clarke has been on the backfoot since taking over a year ago but has added steel to the grocer's defences against the discounters and big four rivals.
In the heat of the hard-fought grocery war, Clarke has improved customer service levels, improved availability and refreshed ranges, leaving its adversaries bracing themselves for a fresh price offensive.
Justice Secretary: Timpson chairman John Timpson
Timpson may not be the obvious choice for the Justice Department but the success of his employment programme for ex-offenders demonstrates that the shoe really does fit.
Unfortunately, the job may be a culture shock for the cobbling supremo, who has a sign on the entrance to his business' headquarters that reads: "Please leave your politics in the car park."
Food and Rural Affairs Secretary: Morrisons chief executive Dave Potts
As head of Defra, Potts would promote British sourcing and farming.
The Morrisons boss has harnessed the grocer's vertically integrated model to good effect to supply the likes of Amazon, while the retailer is also embarking on a fresh provenance push, touring the UK to recruit at least 200 new British suppliers.
Home Secretary: Marks & Spencer chief executive Steve Rowe
M&S boss Rowe has withdrawn from many of international markets, shutting down stores in China, exiting prime real estate on Paris' Champs-Élysées and rowing back on plans to open a major store in Amsterdam, drawn up under his Dutch predecessor Marc Bolland.
Instead, he is focused on making over its UK store estate in an attempt to make the retailer fit for a new era of retail – fine domestic credentials for the role of home secretary.
Foreign Secretary: Kingfisher chief executive Veronique Laury
As the boss of Europe's largest DIY retail group, Laury does business in many countries so is a natural fit for the Foreign Secretary role. Her business spans France, Spain, Portugal, Germany, Poland, Romania and Russia, as well as the UK.
The French national can also leverage her expertise in building friendly Anglo-French relationships in order to bring harmony at a time of uncertainty and trepidation for the UK.