Blockbuster movies released in 2015 ensured it was a landmark year for video as retailers unlocked value through in-store experiences.
Thirty years after the first ever VHS went on sale in that most innovative of retailers, Woolworths, the UK video sector is experiencing an exciting new era of growth.
In 2015 the home entertainment market grew to £2.24bn, up 1.5% on 2014. That is twice the size of the physical music market and 20% higher than the physical games market. Not bad for a market that is entirely based on discretionary spend.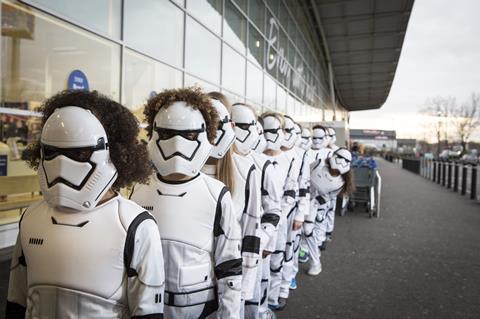 It would seem that as a nation we have taken our long-standing love affair with film and TV to a new level, a change fuelled in large part by the growing wealth of ways to watch.
The UK video industry went truly multichannel in 2015 as uptake of digital video services reached a tipping point, delivering a greater than predicted 30% year-on-year uplift in sales.
The growing array of digital services enable us to watch existing favourites and discover new ones on smartphones, tablets and laptops, wherever we are.
Our industry has evolved its business to remain ahead of the unprecedented changes in the way people want to access content. However, 2015 also underlined the UK's ongoing love affair with discs and the importance of entertainment in the home.
According to Official Charts Company data, DVD and Blu-ray combined sold nearly 119.6 million copies and represented near half (48%) of the total home entertainment market value of £1.1bn. These figures suggest there are still plenty of reasons to be optimistic about the success of both DVD and Blu-ray for years to come.
"By delivering collaborative in-store campaigns that engage shoppers with the viewing experience on offer, retailers are unlocking added spend at the tills"

Liz Bales, British Video Association
Innovative retailers are increasingly recognising the added value that the video category – and discs in particular – can deliver in-store.
Home entertainment is a key driver of store choice for 5.4 million UK shoppers, behind only clothing and homeware in non-food, while video has the biggest halo effect on grocery spend of all the non-food categories.
By delivering collaborative, creative in-store campaigns that distract and engage shoppers with the viewing experience on offer, retailers are unlocking significant added basket spend at the tills.
Jurassic World's roaring in-store success
Long before Jurassic World opened in theatres, Universal Pictures started working closely with its retail customers on a campaign that would excite shoppers in store and was worthy of the film's massive blockbuster status.
As the box office continued to rise, retailer appetite for scale and innovative POS surpassed anything the category has achieved before.
HMV worked with Universal Pictures to deliver dramatic in-store theatre: installing 11ft Jurassic World arches in 21 of their outlets; staff dressed as rangers patrolling the stores; commitment of 150,000 Jurassic World carrier bags and 50,000 gift cards.
Tesco staged an unprecedented takeover of its entertainment category across 1,200 stores. Each store had its own tailored plan, including: turning aisles into Jurassic World with pterodactyl hanging banners; a behemoth chart takeover across all DVD and Blu-Ray; an extensive suite of stock-holding POS – all of which met with resounding customer approval.
Asda's campaign was its most adventurous ever comprising motion activated sound chips (dinosaur roars) and monster-sized crates forming stock-holding arches across 61 stores, which succeeded in delivering real theatre and excitement.
The result elevated Jurassic World to the biggest selling title in the final quarter of 2015, selling more than 1.05 million physical copies in only 10 weeks.
With a strong film slate including the hotly anticipated titles such as Spectre and Star Wars: The Force Awakens due to be released into stores in the first quarter this year, the home entertainment category looks set to remain vibrant and vital in 2016 and beyond.
Liz Bales is chief executive of the British Video Association