Big is beautiful has been the maxim of successful retail for decades, but perhaps things are changing.
Action points for retailers:
Once, whether it was Walmart, founded in 1962 by Sam Walton in Rogers, Arkansas, or Tesco, launched by former market trader Jack Cohen in 1924 in Edgware, north London, scale and ubiquity represented the realisation of ambitions to create landmark retail businesses. Even if those legendary entrepreneurs had little idea when they started out how colossal their empires would become.
Today, the landscape has changed and although big retailers still dominate, there are myriad openings for new entrants.
"The internet has brought unparalleled opportunities for small businesses to compete on a pretty level playing field against the Goliaths of the industry"
While value grocers such as Aldi and Lidl have made the most of their insurgent status as 'little guys' against the establishment – even though the UK arms of each are part of powerful multinational organisations – it's noticeable how many really small businesses are now able to make an impact in the crowded, mature UK retail market and elsewhere.
The internet has brought unparalleled opportunities for small businesses to compete on a pretty level playing field against the Goliaths of the industry.
And while they may be small now, and in some cases are likely to remain so, their rise en masse may represent wounding by a thousand cuts to the big incumbents.
Market trader to marketplaces
The emergence of online marketplaces epitomises the shift.
In July, Amazon reported that its third Prime Day promotion, "the biggest global shopping event ever for Amazon", was also a big day for the businesses whose trade it facilitates.
"Hundreds of thousands of small businesses and entrepreneurs participated in the global event and sold more than 40 million units," the etailer reported.
Amazon said that "small businesses and entrepreneurs on Amazon sold more than two billion items in a record-breaking first half of 2017.
Amazon Marketplace vice-president Peter Faricy observed: "We started working with small businesses to sell online back in 2000 and have helped hundreds of thousands achieve success.
"Amazon Marketplace has grown so significantly that sales by small businesses now account for over half of the unit sales on Amazon sites around the world, and 2017 is off to a record start with over two billion units sold."
Amazon has 11 marketplaces globally and "more than 100,000 entrepreneurs achieved over $100,000 in sales selling on Amazon in 2016", according to the retailer.
The etailer says that "sellers have created over 600,000 new jobs outside of Amazon".
One entrepreneur quoted was One Savvy Life founder Kelly Fedio, who said: "Being able to sell on Amazon has been paramount in driving massive amounts of sales and customer visibility, allowing us to build brand awareness where customers shop."
Human values
It's not just Amazon that is opening doors to small businesses. The UK's Notonthehighstreet has built its success on distinctive products typically provided by artisan sellers.
Founded in 2006 by Sophie Cornish and Holly Tucker, Notonthehighstreet's mission is to go against the grain.
"Shopping with Notonthehighstreet is an opportunity for customers to be a conscious consumer, bringing human values back into retail and enabling the things they buy to say something about who they are"

Notonthehighstreet
"We connect the nation's best small creative businesses with shoppers who increasingly demand higher-quality, unique products, made with care at a small scale," the etailer says.
It overtly distances itself from the cookie-cutter approach that some of retail's big names are accused of.
"By choosing to support these businesses, our customers contribute to a thriving community of creative talent across the UK," maintains Notonthehighstreet.
"Shopping with Notonthehighstreet.com is an opportunity for customers to be a conscious consumer, bringing human values back into retail and enabling the things they buy to say something about who they are."
Notonthehighstreet, like eBay, has benefited from the consumer-attracting power of marketplaces.
By 2014, 11 Notonthehighstreet traders broke the £1m revenue barrier. By the same date, there were a reported 2,000 million-plus revenue sellers on eBay in the UK.
In the great scheme of things, that might be considered small – but every pound could conceivably have gone to an established retailer.
Pace of change
The pace of change only seems to be accelerating.
Take the furniture and home retail market. Disruptors such as Casper and Eve Sleep are carving out their own territories.
Mattress specialist Casper, which launched in the UK in 2014, describes itself as "one of the fastest-growing consumer brands of all time".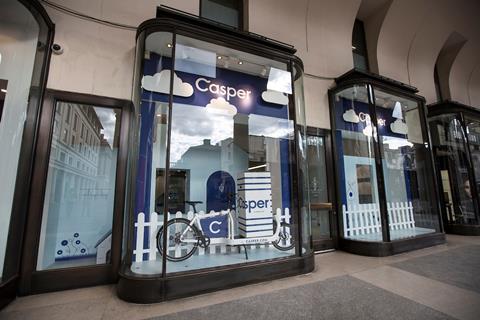 In its first full year of operation it generated revenues of $100m. It won Fast Company's recognition for being "one of the most innovative companies in the world".
Its signature mattress product was one of Time magazine's "best inventions of 2015".
In 2014, UK mattress sales were put at £1bn, but less than 10% of mattress sales are made online, and according to Casper "are still traditionally sold in commission-driven store showrooms".
In contrast, Casper "is the future of mattress buying".
Casper specialises in "one perfect mattress sold directly to consumers – eliminating commission-driven, inflated prices. Its award-winning sleep surface was developed in-house, has a sleek design, and is delivered in a small, 'how did they do that?' sized box."
How did the established retailers not identify the same opportunity?
Could it be that they took their shoppers for granted and that their pace of innovation was slower than consumers wanted, and smaller players – such as recently floated Eve Sleep – identified a gap in the market?
The power of small
The same is likely to happen in other specialist markets.
Who would have thought that slippers would have become a niche market? But they have, as Mahabis shows – a name frequently mentioned by those who follow emerging online companies.
The power of small is also evident in the big grocers' interest in taking over wholesale and c-store groups, notably Tesco's £3.7bn proposed takeover of Booker.
"Small is beautiful too when it comes to suppliers. The UK's looming Brexit means that UK suppliers will become more important than ever"
It's testament to the fact that shoppers are spending in smaller baskets and in smaller, convenience stores, whether owned by the multiples or independents working with symbol and similar groups.
Small is beautiful too when it comes to suppliers. The UK's looming Brexit means that Uk suppliers will become more important than ever. The country must nurture small producers – otherwise there will simply not be enough for its citizens to eat if we were to rely on British production.
In February Morrisons flagged the issue when it said it was determined to recruit 200 more British suppliers after a report commissioned by the grocer revealed that about half of the food consumed in the UK comes from local sources – a proportion that must be increased if this country is to sustain itself.
The need to nurture
Not all small retailers will become big. But they don't need to.
The fact that they have fewer mouths to feed allows them to be disruptors, doing very well thank you, without the overheads of the big names – and eroding market share through their innovation.
But all of those small market shares, and those niche ideas that have the potential to become big, or at least to comfortably sustain livelihoods, mean that large businesses need to nurture smaller counterparts that could become suppliers or acquisitions.
Small these days may mean big tomorrow – but, more importantly, a lot of a little makes a lot.
Big names no longer have things to themselves.
Action points for retailers
Are newcomers disrupting your market?
What are you doing to ensure that your business is delivering innovation? Many of the emerging companies are succeeding because they are addressing problems ignored by incumbents.
Can you deploy a marketplace model?
Retailers may not wish to do so in core categories, but what complementary products may be sold that make you a hub in your area of expertise?
Are you innovating and nurturing?
Do you have an innovation venture capital fund to power ideas within the company that could make a difference in future?
How are you fostering new suppliers – the ones that may open doors to category dominance in future?