Geoff Gower, managing creative partner at ais London shares his view on the design and usability of Lacoste and Svpply.com's retail websites.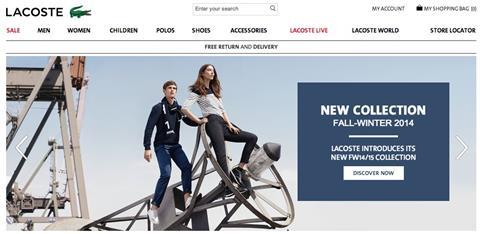 Lacoste
This sportswear brand has a long, pioneering history and the website is a brilliant example of its future-gazing approach, with multichannel at the heart of its strategy.
The e-store section works really well. Its understated and simple aesthetic makes it a strong offering.
In addition the website is optimised for mobile. Its lovely user interface collapses down from a desktop to a smaller screen and nearly all the same content remains and works well.
The prominence of the 'find local store' feature is great, and opens the brand up to some more exciting possibilities using geolocation and beacon technology.
Svpply.com
This website feels like a Tumblr page when you first arrive. That is a bold move, but there is a difference between content consumption and product purchase.
The near-constant updates of popular and esoteric clothing, vinyl and tech products are enjoyable to browse, but quickly become overwhelming.
It wasn't clear whether a user could buy these products from the website, or if they were actually hosted on Amazon.
It appears that other users might have encountered similar problems because a sign on the site states that it will "retire" at the end of August.