Twitter is testing a 'buy now' button on its platform that will allow users to purchase products direct from a tweet.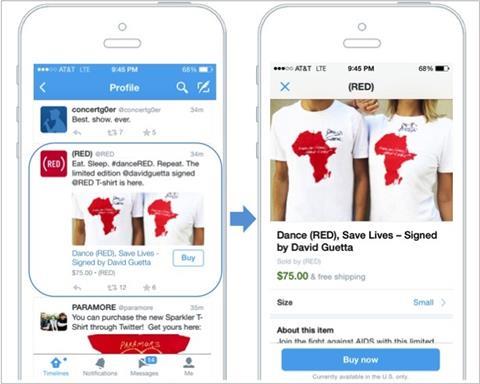 The US-only trial is currently being offered to a small percentage of users and will be rolled out further over time and test partners include Burberry and The Home Depot.
A blog states the trial is an early step in making shopping on Twitter from mobile devices "convenient and easy".
The social network has already dabbled in in ecommerce through a tie-up with Amazon that allows users to purchase products off the retailer by using the hashtag #AmazonCart.
Twitter's 'buy now' button will be available on the Android and iOS Twitter app.
When shoppers tap the buy button they will be provided with additional product details before being prompted to enter shipping and payment information, which will be sent to the retailer for delivery.
Twitter has reassured users that it is placing "trust and security at the forefront" by encrypting and safely storing the payment and shipping information.
The stored information will enable the user to make repeat purchases without re-entering their details each time.
Twitter's entry into the ecommerce market is being overseen by Nathan Hubbard, who joined the company as head of commerce having previously been chief executive at Ticketmaster.
Twitter's foray into ecommerce comes almost two months after Facebook revealed it was beginning to test a 'buy' button.