The OC&C Pureplay Etailer of the Year winner has moved with the times to become a case study in ecommerce excellence.

Pureplay is firing on all cylinders, and for a retailer that started out as a mail-order business, Shop Direct has moved with the times.
The dropping of the iconic Littlewoods catalogue after 80 years marked the end of a long journey for the retailer, which is now a pioneering pureplay.
"It takes a lot to win the same award two years running, but once again Shop Direct managed to wow the judging panel"
It takes a lot to win the same award two years running, but once again Shop Direct managed to wow the judging panel.
Not least because the company has not just dropped the catalogue and entered the digital era – it has arrived in style, going further than almost any business.
A string of innovations and initiatives have made the whole industry pay attention, such as investment in personalisation, one-to-one marketing, and some of the most sophisticated algorithms and systems around, finely tuned to increase retention and predict when a customer might need to repurchase.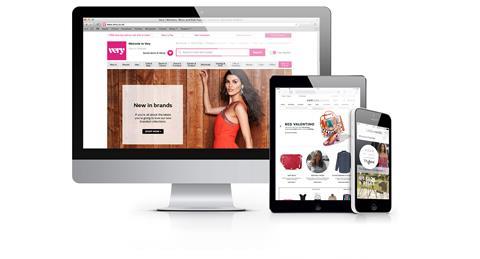 Mobile first
Praising the many initiatives now in place, one of the judges said: "It is just doing such pioneering things.
"The way it has created an experience and kept up with shoppers' digital needs is fantastic. It's a highly impressive and professional set-up, including the off-site management."
"A string of innovations have made the whole industry pay attention"
Shop Direct has put mobile shopping right up its list of priorities, and with good reason. In the company's words: "We call it our mobile-first approach. We do it because it's where our customer is. Mobile grew to 62% of our online sales in 2015/16, up from 56% a year earlier and from just 20%in 2011/12."
The contrast between the era in which Shop Direct was born as a catalogue business and retailing today could not be more pronounced.
A new era of etail
Since last year's win, Shop Direct has added 150 new brands to its online offer and launched own-brand V by Very, which has its home on the company's fastest-growing brand site Very.co.uk.
The future, the etailer said, would be powered by even more technological innovations "fuelled by data, machine learning and artificial intelligence".
As one judge remarked: "Some retail brands have struggled to keep up, but Shop Direct has been very clever about the way it has evolved."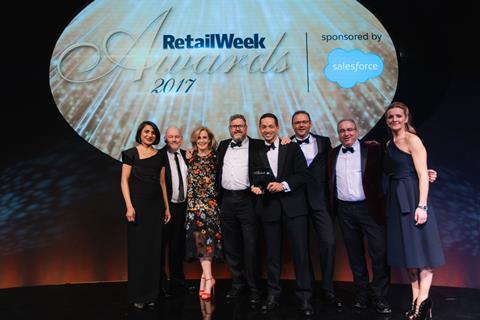 Mark of Excellence: The Hut Group
In this category, another very fast-growing etailer impressed the judges. The Hut Group continues to excel – it's success is evident in its financial numbers and international growth, and it has invested for that to continue.
In November, the retailer recorded its best-ever Black Friday sale, with a 95% increase on the previous year.
Since last year's awards the company has added more than 60 international sites to its line-up, with international clicks now accounting for over half of overall sales.
One of the judges said the company had produced incredible results in a short space of time and observed "it has all come together – it's working fantastically well".
OC&C Strategy Consultants

OC&C Strategy Consultants operates in the key markets around the world to bring clear thinking to the most complex issues facing ambitious management. OC&C works side by side with their clients to achieve lasting improvements in strategic performance and to maximise long-term growth.
Its client roster includes some of the world's most respected retailers and private equity investors in the retail sector. Its Retail team is recognised for the expertise and insight it brings to the rapidly evolving retail landscape. Occstrategy.co.uk