Marks & Spencer has kick-started its Christmas online sales campaign by offering shoppers delivery for a penny.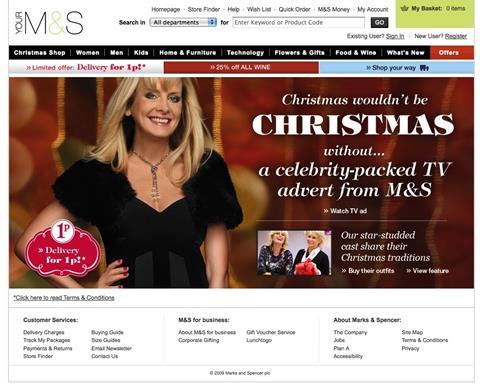 The penny delivery deal is part of the retailer's 125th birthday celebrations but is likely to drive online sales as the festive season gets under way.
M&S typically charges shoppers £3.50 for UK standard delivery and the 1p offer only runs from today until Saturday.
Online growth is a central plank of M&S's growth strategy. The retailer aims to generate etail sales of £500m by 2011/12.
Last week the retailer reported that sales from its website soared 29% in the first half, when its online clothing share increased from 4.2% to 4.8%. Traffic to the site rose by 30%.
No comment was available from M&S about its 1p delivery offer.
This Friday, Marks & Spencer will reprise its Penny Bazaar, run as part of the birthday celebrations earlier this year, when a range of goods including Christmas products will be on sale for 1p each.
Cash taken will go to charities. However shoppers at the bazaars will also be given a booklet of vouchers offering 12.5% discounts over the Christmas period.