An online pound shop has launched this week for the first time, pipping Poundland co-founder Steve Smith's Poundshop.com venture to the post.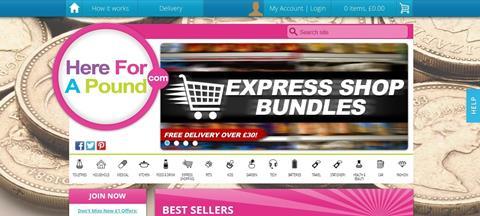 Hereforapound.com opened this week offering everything from food and homewares to technology.
The online pound shop has been launched by husband and wife entrepreneurs Donna and Mark Baker and counts Stephen Boyd and Sam Mickleburgh, Axminster Carpets chairman and HR director respectively, as board members.
Smith's online store – a single-price transactional site with a minimum order value of about £20 – is scheduled for Saturday.
Poundshop.com, which will be supplied by Poundworld, had hoped to be the first single-price etailer.
The competitive physical store battle among value retailers has yet to reach the online space as retailers struggle to find a model that will succeed under the substantial overheads associated with eccommerce.
But Hereforapound.com found that a trial pound shop on sister daily deals site Hereforaday.com last October drew an average £19 per transaction which the founders say is, three times more than the average basket size of a physical pound shop.
The new venture will not ask for a minimum order value but standard delivery will cost £4.50. Hereforapound.com hopes to turn over £4m in its first year.
Hereforapound.com managing director Donna Baker said: "The phenomenon of pound shopping in the UK is now a part of many shoppers' spending habits and this, combined with the huge rise in online shopping, made us realise there was a huge gap in the market."