Topshop and Miss Selfridge are launching online in China in a tie-up with local etailer ShangPin.com. Retail Week takes a closer look at ShangPin.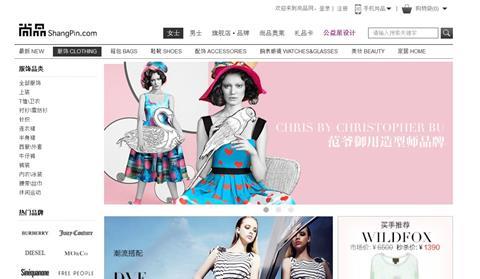 Chinese fashion etailer ShangPin is a young company. It was launched in July 2010 by a group of Chinese banks who wanted to offer their top premium credit card customers a private members' shopping club to buy the best brands. It was designed to be a private online luxury shopping and exclusive members' club selling global luxury brands to "affluent VIP members". Now ShangPin is a fashion ecommerce site open to all.
ShangPin sells apparel, shoes, handbags, fashion accessories, watches and jewellery.
Despite its premium focus, Shangpin vice president, international business development Claire Chung is "extremely confident" high street brands will work well on its site. She says the new, younger luxury consumer in China, who is in her 20s and 30s, is "very interested in incorporating many different types of brands into her wardrobe beyond what is typically deemed luxury".
It has more than 5 million customers and says it is the leading and largest luxury fashion online shopping platform in China.
Its average transaction price is RMB3,000 (£291) and it has sold luxury watches for up to RMB100,000 (£9,721).
It claims it has strong growth rates in China's second and third tier cities "where many luxury brands have yet to open stores".
ShangPin is headquartered in Beijing and employs 400 people. It has regional management teams in Hong Kong and Europe.
The etailer will next month launch a new styling and social marketing platform on its website as a "value-added service offered to brands" so they can target China's tech-savvy shoppers. The country's 20-somethings and 30-somethings spend up to 30% of their day online or on their mobiles.
40% of its sales are made through mobile.
It focuses on the high levels of customer service that the Chinese consumer has come to expect. As part of its Consumer Trust Plan it launched services including a seven-day unconditional return policy and a try-on service for customers at time of delivery. Shopping is delivered in stylish black shopping bags with gold lettering and the etailer also holds networking events.
ShangPin's principal investors include Chengwei Capital, Disney's Steamboat Ventures, Morningside Ventures and Hillhouse Capital.