Ecommerce giant eBay celebrates its 20th birthday this week. Here are 15 facts about the world's most iconic auction site.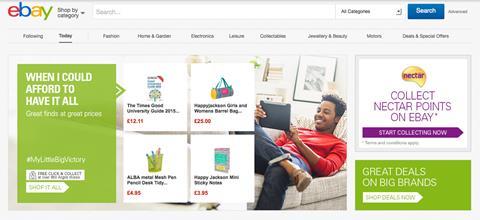 1. The first item ever sold on eBay was a laser pointer pen back in September 1995.
2. EBay launched in the UK in 1999, when a fifth of UK homes still connected to the internet through a dial-up connection.
3. 18 million people visit eBay.co.uk every month. Globally, it has 25 million sellers, 157 million buyers and 800 million listings on its books.
4. Close to £90m has been raised for charity through eBay auctions. Memorable items include Princess Beatrice's 'pretzel' hat from the 2011 royal wedding, Harry Styles' bow tie and a rather sweaty wristband Andy Murray threw into the Royal Box at Wimbledon this year.
5. In 2008 the value of sales on eBay.co.uk was larger than the gross domestic product (GDP) of 68 countries.
6. The eBay app was the first commerce app of its kind when it came to iTunes in 2008.
7. 2010 was a big year for eBay. 'Buy it now' sales overtook auctions for the first time in the UK, accounting for almost two thirds of listings.
8. The same year saw more Brits shopping through the eBay mobile app than any other European country, as mobile sales hit £1.2bn.
9. To date, more than 2.5 million eBay purchases have been made through the click-and-collect service, which allows users to pick up their goods from a designated collection point. In 2013, Argos joined forces with eBay to launch a click-and-collect trial at its stores
10. On Christmas Day 2014, a surge of unhappy sellers took to the site to auction off their unwanted gifts. EBay saw listings for tablets and iPads up 43% and listings for perfume increase by 300%.
11. A report from eBay's Public Policy lab this summer found a powerhouse of ecommerce in the north. Greater Manchester is home to more small businesses than anywhere else in the UK, followed by Lancashire and West Yorkshire.
12. A new wave of 'mum-preneurs' have used eBay to set up businesses, generating £7.2bn for the UK economy and supporting 204,600 jobs in 2013.
13. More than half of the small online retailers on eBay's UK marketplace are classed as 'global', exporting to four or more different continents.
14. In May 2015, eBay's global shipping programme took its millionth order. The international shipping service is used by up to 10,000 UK sellers a day.
15. EBay's total gross merchandise volume since 2000 has exceeded $660bn.