Premium fashion etailer My-Wardrobe.com is to launch internationally next month as it revamps its website and prepares to unveil a loyalty scheme.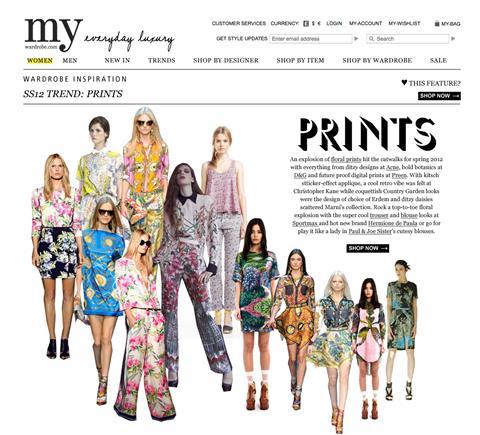 The refreshed site will offer localised language and currency options for a number of international markets in Scandinavia – which launches on February 1 – and after that Australia and the Middle East.
My-Wardrobe has hired managers for each territory to oversee the launches. The British company already operates in the US and Canada, which marketing director Rob Moss described as still being "huge" markets for the etailer.
My-Wardrobe will also revamp its site, trimming its editorial content on the site, reflecting customer research.
Product will be shot in normal situations rather than in a studio to show customers how the item can fit into their everyday life.
The etailer will also introduce a new loyalty scheme giving customers a point for every pound they spend on the site. Shoppers who earn 500 points will be treated to a £25 gift voucher.
The My-Loyalty programme introduces a bronze, silver, gold and black-tiered system, which alongside the gift vouchers, offers exclusive benefits including free premium shipping and exclusive shopping days.
For summer 2012, My-Wardrobe will also be introducing seasonal double and triple My-Loyalty point shopping incentives.
My-Wardrobe is still on the hunt for a chief executive. Founder Sarah Curran is understood to want a boss to focus on global expansion while she turns her attention to user experience, creative direction and further development of the brand and the website.
In 2010, My-Wardrobe won a $9m (£5.8m) investment led by venture capital group Balderton Capital to drive growth, including adding more brands to its offer.