Traditional retailers have long grappled with multichannel strategies, but now it is etailers considering whether they need a bricks-and-mortar presence to compete. Rebecca Thomson reports.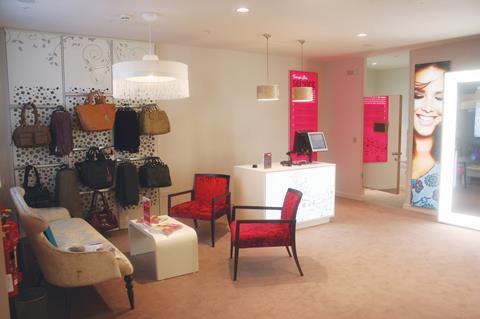 Amazon has launched collection lockers, Net-a-Porter opened a pop-up Bond Street window shop, Kiddicare is to open a 12-strong national chain of superstores, Ocado unveiled a virtual shopping wall at One New Change, and plus-size home shopping brand Simply Be has opened two stores in Liverpool and Bury. In the last few months, etailers' ambitions have started to stretch beyond their online remit, and they're approaching the physical world of retailing with the same panache they show on the web.
"There's an overwhelming reason for us to open up destination stores," says Kiddicare chief executive Scott Weavers-Wright. "Brand loyalty is important to us in the respect that customers want to touch and feel our products."
My-Wardrobe brand partnership director Antony Hawman adds: "It's gone full circle. Bricks-and-mortar businesses wanted to get online, and now we're all trying to get back out into the real world." This doesn't just mean stores, and neither does it necessarily mean retailing in the traditional sense. It could mean extending the brand into the physical world by organising events, or using a real-world presence to improve your online service – as with Amazon's delivery lockers, which allow consumers to pick up their orders from lockers in shopping centres. The answer to the conundrum will differ for each business. What's important is that it's being considered.
Money in multichannel
"Multichannel customers spend better and more, and for us it certainly makes sense," says Geoff van Sonsbeeck, founder of online womenswear retailer Isabella Oliver. "Etail will always be our most profitable channel but a lot of customers are not buying online. Leveraging your brand in the bricks-and-mortar world makes sense."
Not only does an offline presence help etailers cement their brand, reach new customers and generate awareness, it also makes good business sense, says Pixmania chief executive Ulric Jerome. "Even though the ecommerce market is growing quickly, in general people still spend their money offline. About 80% of customer spend is done offline and we wanted a bit of this market share," he says.
Pixmania has 17 stores across continental Europe, the first of which was opened in 2002. It's no mean feat to go from online to store retailer – while many store retailers have moved online, Pixmania was one of the first etailers to move into stores. Jerome admits it was a challenge. "We had to do it in a very agile way," he says. "You need to be very good at managing your costs and having low operational costs."
What's more, Pixmania's stores play a different role from those of many traditional retailers. Direct sales do take place and Jerome envisages this increasing in the new format being rolled out at the moment, which is more tailored towards direct sale and displays more products. But reserve-and-collect is also a large part of the store business.
The stores also act as a display for the brands Pixmania sells – and sales staff can give advice on what might be best for each shopper. Its stores stock 1,200 products, but this is only a taster of what is available online – as with any multichannel business, part of the role of stores is to support and boost the profile of the main etail channel.
Kiddicare certainly wants to make the most of the support a multichannel ecosystem can give. The childcare retailer has just announced plans to roll out 12 superstores, in a similar format to its existing Peterborough store, across the UK. Weavers-Wright says the move is crucial for brand loyalty, and that it will enable customers to see, touch and feel products in his own stores as opposed to his competitors'.
The stores will mean Kiddicare can take full advantage of click-and-collect, a multichannel model that's been hugely successful for bricks-and-mortar retailers. It will instantly be easier for customers to both collect and return products – often a big problem for etailers, whose customers are often put off having to pay to send bulky items back through the post. The challenge, Weavers-Wright says, will be to make sure the level of service stays consistent throughout the chain of stores.
Kiddicare and Pixmania are two of the first etailers to become truly multichannel, but David Oliver, retail and consulting partner at PricewaterhouseCoopers, says etailers have a real advantage over bricks-and-mortar operators if they decide they want to go down this route. "Most store retailers if they were starting from scratch today would not have the store portfolio they have now. They have this legacy that can't be resolved overnight. Etailers have a blank sheet of paper."
More than just stores
But etail's leap into the physical world of retailing isn't just about stores. The growth of mobile has been instrumental in enabling retailers to bridge the two worlds, and enterprising etailers have found all kinds of other ways to have a presence on the high street. In September Net-a-Porter used it to great effect at its pop-up window shop on Mount Street. Customers could point their phones or tablets at pictures of Net-a-Porter products hanging in the window, and image recognition technology would take them straight to content such as videos of models wearing the clothes and to links to the online shop.
eBay launched a similar initiative last month in New York, called the Inspiration Shop, and the company has announced a new focus on mobile apps. The Inspiration Shop uses QR codes so customers can buy the product or search for similar products with their phones. The company has also opened up some of its systems to external developers in the hope they'll help drive innovation and come up with clever new mobile services. EBay vice-president of fashion Miriam Lahage says: "The online and offline worlds continue to blur, and in order to be relevant pure-play etailers are going to need to have a strategy that ensures they are with their customers wherever and whenever the customer wants."
Lahage says pure-plays don't necessarily have to have a physical presence – a "physical signposting" can work just as well for some businesses, directing customers to the online site. "The Inspiration Shop is a visual signpost to customers that eBay is there," she says. The company also has plans for a visual image search, which will enable customers to take a photo on their phone of something they see and use the technology to find something similar on eBay."
The mood for change
What's driving this change in the etail landscape? It's similar to the changes required in traditional retail – the customer has changed the way he or she shops. "We have got to think about it from the customer's perspective," says van Sonsbeeck. "And what they most want is convenience."
This means working out exactly how customers in each retail category shop, and figuring out which services in the multichannel eco-system they will respond to well. In fashion and childcare, for instance, seeing and trying products does help. Isabella Oliver wants to have flagship stores in key locations in a couple of years. "It helps to have an offline presence that explains the brand, its core values, and its proposition," says van Sonsbeeck. My-Wardrobe is holding exclusive events for its best customers, giving them access to stylists and enabling them to try the clothes before buying on a laptop set up at the event. But in other categories – such as entertainment – a purely online model might be more practical.
But etailers shouldn't rush blindly into the offline realm. It's true that a real world presence can do wonders for some, but there are those whose businesses will always work as a pure-play. Chris Sanderson, strategy and insight director at trend forecasting consultancy the Future Laboratory, says: "There will be businesses that continue to work successfully in a single channel. If you have an experience that is engaging and cohesive customers will shop with you."
Sanderson adds that he has a lot of faith in etailers' ability to adapt. "The online consumer has been highly volatile and etailers have had to learn how to respond quickly." He says these businesses tend to be more hungry, more agile and more focused on thinking about what's new and what's happening next. "Most no longer see the product as the sole reason for engaging with a brand. It's about the experience and we don't often consider what that experience might mean," he says.
Traditional bricks-and-mortar retailers, says Weavers-Wright, should be ready to respond to this recent spate of innovation. "People should be worried," he says. "We are taking on big established players and they need a strategy to respond to this."
The future may well be in the hands of etailers, and traditional players would do well to pay attention.
Pure-plays get physical
Amazon
Launched collection lockers in shopping centres and office blocks in the London area, enabling customers to pick up their orders using a code that's been emailed to them
Simply Be
The etailer has two stores open at the moment, and has recently announced plans for another five
Net-a-Porter
Opened a pop up window shop which allowed its customers to use image recognition technology, which took shoppers straight to video content of the clothes and to the online shop
Kiddicare
The childcare retailer has announced plans to open 12 superstores across the UK
Ocado
Has a virtual shopping wall at One New Change that allows customers to scan QR codes and shop using their mobiles
Pixmania
The etailer has 17 stores across Europe
eBay
Its Inspiration Shop in New York allows customers to shop using QR codes, and its image recognition technology will let customers take pictures of products they like and search for similar products
Branching out - Moving into bricks-and-mortar
It helps to have advice Kiddicare chief executive Scott Weavers-Wright says he is "lucky" to have access to the Morrisons' board, after the grocer bought his business earlier this year. He says he has asked the retailer to help Kiddicare produce a proposal for its planned 12 stores, and says that those with no access to such advice should look into partnerships with high street players
Prices are a challenge Pixmania chief executive Ulric Jerome says keeping store and online prices at exactly the same level is difficult, because of higher store costs. He says the only way to deal with it is to keep strict control over operational costs
Fly the flag A small collection of flagship stores – similar to Apple's approach – will help etailers that want to build their brand, showcase their proposition and drive traffic to the site
Start a collection By comparison, some etailers will be better suited to developing a network of collection points. Whether it is via Amazon-style lockers or through a partnership with a high street store, it will help make it easier for customers to collect items that don't fit through a letter box
Know your category The most crucial thing is to consider the retail category you are in and the customer journey that involves. "People shop different categories very differently," says David Oliver, retail and consulting partner at PriceWaterhouseCoopers. "Pure-plays need to decide how they want to participate in multichannel retailing and how they want to serve people"
Start with the customer Remember it's all about the customers, and how they shop now. People research and buy across the channels, and get inspiration from all over the place. It is changes in shopper behaviour that are driving the amalgamation of the two separate worlds, and constant contact with them is the best way to decipher the correct route for your business