The retail giant has unveiled a raft of omnichannel initiatives, but will this push be enough for Walmart to gain ground after a slow online start?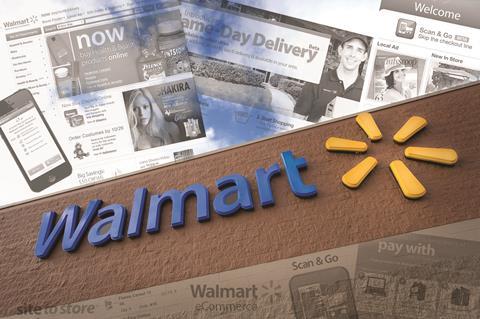 Who will be the biggest retailer in the world in 2020? As former Asda chairman Andy Bond predicted last year, Amazon is likely to leapfrog Walmart into the top spot by the end of the decade. Walmart's sluggish response to online and multichannel trading has certainly attracted its fair share of criticism.
But the prognosis could be about to change. At the retailer's first global ecommerce media conference in March, Walmart.com chief executive Joel Anderson unveiled a range of projects to develop its ecommerce and multichannel offer. They include trialling in-store lockers for collection of online orders, as well as fulfilling online orders from its stores and launching a new in-store mobile app.
The app will allow customers to 'clip' digital coupons that will be automatically applied when they pay for their purchases at self-checkout tills, and it enables them to create shopping lists and locate products by aisle.
Giftcards will also go mobile, with shoppers able to load them onto smartphones and use them at the checkout in-store - a step towards mobile payment for the retailer.
Also on the cards is a plan for same-day delivery in some areas, using its 4,000-strong store estate as a distribution network. Not only this, but reports have circulated that Walmart is even planning to use in-store shoppers as a delivery mechanism - which would involve store shoppers delivering online orders to web shoppers in return for a discount.
Whether some of these more outlandish ideas ever come to fruition remains to be seen, but the grocer is hoping these new initiatives will help it put its network of stores to good use and enable it to better compete with Amazon.
For some, the digital projects come not a moment too soon. Stephen Springham, senior analyst at Planet Retail, says: "'About time too' is our measured response to the announcements. By and large, Walmart has been a laggard in the ecommerce arena and its development of a credible multichannel strategy has been painfully slow."
Embracing multichannel
The developments are significant because the world's largest bricks-and-mortar retailer has been fairly lacklustre in its public response to multichannel and online retailing so far. While most retailers have beavered away behind the scenes for some time, relatively few have taken pains to present a more innovative face to the world and make it clear to their customers that they're aware omnichannel retailing is where things are heading.
Walmart's public song and dance is not only going to highlight its own strategic improvement, it is likely to be a wake-up call to any retailers still lagging behind. Springham says the public manner of the announcements was necessary. "Tesco has been doing it for years, but quite quietly. It means it hasn't had to do anything with great fanfare. Walmart is now ahead of the game, up to a point," he says.
The founding in 2011 of Walmart Labs, Walmart's technology-focused innovation centre in Silicon Valley, signalled the direction of travel for the retailer, and its carefully orchestrated raft of announcements communicated loud and clear Walmart's intentions. "It has become among the more innovative retailers, certainly in North America, in terms
of thinking about and implementing a seamless multichannel strategy," says Bryan Roberts, retail insights director at Kantar Retail. "It's quite refreshing to hear a retailer embrace multichannel as an opportunity rather than a horrific millstone."
The change is all the more marked because of Walmart's previously slow progress in online retailing. Springham says the dynamics of the retail market in the US are different to the UK - in North America there is much more out-of-town retailing and shoppers are still keen to 'one-stop shop', plus ecommerce is less advanced. He says Walmart's best practice ecommerce business is Asda, which, while it has made great strides over the past year, would hardly be considered cutting-edge in ecommerce in the UK.
Disruptive thinking
With digital, as with every step change in retail, it helps to view what many would call a problem in as positive a light as possible. Too many bricks-and-mortar retailers have seen online as a problem to be tussled with - what
Walmart's ideas do, Roberts says, is help shift the perspective and reshape the issue as one laden with opportunities. "A lot of retailers are running around panicking that they're lumbered with these store estates," he says. "Walmart has taken a more positive slant on that, and is regarding its network of stores as an asset that helps with things like fulfilment, returns and same-day delivery," he says.
None of what Walmart is doing is particularly difficult, but it does require retail bosses to grant a certain amount of creative freedom to some teams. If decades old processes are to change, retailers will need to approach it imaginatively. "If you're a retailer that's been buffeted by all this stuff, it does make sense to have your own disruptive, innovative thinking," says Roberts, who points out that Tesco and John Lewis have also created technical departments or events that encourage fresh ideas. He adds: "You should cause your own trouble rather than be troubled by the actions of others."
Store assets
So will these initiatives actually work? While some of the ideas - using store shoppers as a delivery mechanism, for instance - might sound implausible, most of the ideas milling around Walmart have garnered praise.
"Some are clearly fanciful and will never happen," says Roberts. "But the lockers idea is clearly a sensible option. It will free up staff time. And moving towards same-day delivery is clearly the way forward for multichannel retailers."
Using the 'crowd-sourcing' method of delivery is unlikely to work however, says Centre for Retail Research director Joshua Bamfield. He warns that there are numerous legal, regulatory and privacy issues involved. "I see the possibility of fraud and insurance issues as significant," he says. "Developing a trained, efficient and well-managed model will be difficult."
The locker trial, however, is seen by many as a no-brainer. Springham points out costs and possible operational issues might put the brakes on slightly in the short term, but with the biggest stores reaching 180,000 sq ft there are certainly no space constraints.
He says: "The only issue would be ensuring the effective delivery of goods to the lockers themselves from the shopfloor or back office - surely only something else to think about and resolve, rather than an insurmountable barrier."
While Walmart's plans are fairly advanced, it is helpful for the retailer that it operates in the grocery category.
Food shopping has grown online in recent years, but stores are likely to remain at the centre of grocery
shopping for a long time and, as a result, the estate footprint is not the albatross it is in some categories.
"Walmart's stores are not an issue," Roberts says. "In categories such as clothing and electronics, the footprint could be an issue. For Walmart, most of its stores are frequent destinations. Grocery casts the die in its favour because of repeat store traffic," according to Robert.
One of the most surprising aspects of Walmart's announcements is the turnaround in attitude it represents. Far from the lumbering giant it became known as in the 1990s, its innovation now belies its colossal size. Burnt by the experience of having to retreat from markets including Germany, it has lost its arrogance and adopted a new willingness to learn, both from others and its own mistakes.
"What this has signalled is Walmart's recently discovered humility, which was sadly absent from a lot of activities in the 1990s. There's a willingness to learn, which has become very evident," Roberts says.
Walmart has learnt about everything from ecommerce in the UK, via Asda, to international retailing through its burgeoning operations in China - it bought a 51% stake in Chinese ecommerce company Yihaodian last year.
"Multichannel is just one aspect of this new humility," Roberts says. "It is not afraid to put its hand in its pocket for things like hiring people and acquiring businesses."
Battle begins
So the news seems resoundingly positive for Walmart, whose innovative steps seem to have impressed and
surprised in equal measure - albeit partly because it had been so slow to make a move in the first place. But the all-important question is whether these steps help it compete with Amazon, everyone's favourite arch enemy.
Quite possibly, says Roberts.
Amazon's sales far outpace Walmart's online sales at present - in 2012 Amazon traded around $60bn (£39.85bn) while Walmart's target for 2013 is $9bn (£5.98bn). But in the longer term if anyone is going to compete seriously with the etail giant, it's Walmart.
"It's arguably as well placed as anyone to compete with Amazon in the future," says Roberts. "They are very similar businesses, they both have similar underpinnings - huge assortment, low prices - but historically through different platforms."
This is all changing. Not only is Walmart taking pains to strengthen its online offer, Amazon is testing the world of physical retail with its own locker scheme. "Amazon's lack of stores is its Achilles' heel," Roberts says. "What retailers such as Tesco and Walmart have realised is their key advantage is their stores."
Walmart still has work to do - this year it will roll out a suite of global operating systems including an ecommerce platform - but what's clear is its direction. Now the world's biggest bricks-and-mortar retailer has started in earnest on its omnichannel journey, 2020's global retail winner might be a little harder to call.
Walmart's digital plans
Walmart is trialling a locker collection process in 12 stores, enabling shoppers to pick up online parcels from the collection points and freeing up staff who were previously needed to find parcels.
The retailer is also testing a new home page with three separate tabs. One provides straight-forward online shopping, one shows the shopper items that are popular on Pinterest and search engines, and the final one uses personalised information from a shopper's local store. Walmart recently built a new search engine for the site, which it says has increased sales 20%.
Walmart also has plans to fulfil online orders from its 4,000 stores, instead of through the retailer's historical network of distribution centres. Store-level employees are now assigned to pick items off store shelves, pack them in boxes and mail them to customers.
The retailer is taking baby steps in the world of mobile payments, with a new smartphone app on the way. It will enable shoppers to use digital coupons and load giftcards onto their phones.
Finally, reports emerged after Walmart's global ecommerce conference, where most of these initiatives were revealed, that it was considering using store shoppers as an online delivery mechanism - if the plan went ahead, store shoppers would take parcels to web customers in return for a discount.