As shoppers come to demand more convenience in delivery, retailers are responding with the most innovative period in the sector's history.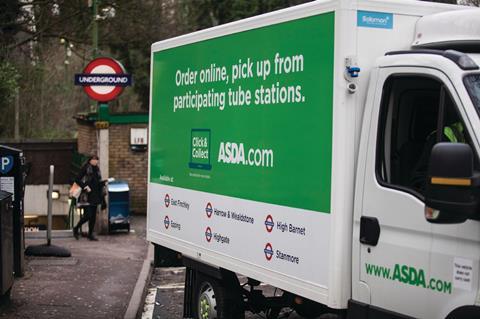 Just a few years ago some thought click-and-collect was a fad that would soon pass. But today it is a fulfilment method that is a hotbed of innovation – and it cannot be ignored.
Over the past few months Doddle, a railway station-based collection point service for online orders has launched, Asos has piloted Parcel Pod collection and return points with built-in changing rooms, and ecommerce giant eBay has extended its collection service with high street multichannel retailer Argos to 650 stores.
In fashion retailer Next's last full year, click-and-collect accounted for 45% of sales. Just last week John Lewis boss Andy Street said he expected more products to be delivered through click-and-collect this Christmas than to customers' own homes. It raises the question: is home delivery dead?
Carole Woodhead, chief executive of Hermes, says it is the most innovative period in the 25 years she has spent in home shopping and delivery.
"UK shoppers are more advanced than anywhere else. They're testing new things that are creating demand. They're saying 'if you give me more options, the more I will do'," she says.
Retailers are ploughing cash into collection options because consumers are increasingly choosing the convenience of picking up orders at their leisure.
House of Fraser executive director for multichannel Andy Harding says there is life in the home delivery model yet, but it is often not the most convenient option for consumers.
"It's about giving the customer choice," he observes. "Taking a day off work or spending half your day waiting around at home is not convenient, but was viewed as a necessary evil before click-and-collect."
Tanya Lawler, eBay vice-president of UK marketplaces, says convenience was the key driver of the etail giant's decision to launch a collection tie-up with Argos.
"What's important is choice and what's right for [customers] in their day-to-day lives. Collection is more convenient than waiting at home. This has resonated hugely with our buyers," she says.
However, Neil Ashworth, chief executive of convenience store collection network Collect+, says consumers actually prefer home delivery. Despite this, research that Collect+ carried out with Opinion Matters last year showed that 51% of those surveyed said home delivery is fundamentally inconvenient.
"They want home delivery but if it's not on their terms they will find a different fulfilment solution to fit their schedules," maintains Ashworth. "With click-and-collect, the customer is in control."
What has become clear with the growth of click-and-collect is that no organisation can rely solely on home delivery, says Woodhead. "Every shopping experience is different with different requirements, so you need flexibility and choice of delivery. You need a range of service options from lockers to leave and collect," she says.
Location, location, location
If consumers are not receiving items at their home, they want to collect them from a place that is convenient.
Harding says retailers have been forced to innovate because a lot of businesses have stopped taking personal deliveries for staff. That means a wave of new, convenient pick-up points has been created in places where customers spend their time.
Asda is among those piloting click-and-collect services in locations such as universities and business parks, and Amazon now has 300 collection lockers in places such as shopping centres, supermarkets and libraries.
Collect+ plans to extend its reach from 5,500 to 7,500 stores this year and is being much more specific about where it opens, according to Ashworth.
"Our network was built on where people live, not where they are," he says. "We'll be focusing more on urban centres, where they are during the day – so train stations, universities and the like."
A big play has also been made to serve shoppers on the go. While Asda and Amazon have launched collection services at Tube stations, Asos and New Look have signed up to railway station-based pick-up service Doddle, launched by Network Rail and Travelex founder Lloyd Dorfman.
"Home delivery is still the number one [fulfilment method] with customers, when it works," says Doddle
chief operating officer Peter Louden. "There's so many people missing out on delivery slots because they're not at home. We're taking advantage of the 1.6 billion passenger journeys that pass through our stations."
Although Doddle has trained staff on hand, handing over the all important last mile in delivery can be worrying for retailers as a poor experience reflects badly on the brand.
Lawler questions what the service will be like in busy Tube stations where thousands of commuters pass through on a daily basis.
"It's not just about providing a collection location – it's the quality of execution that really differentiates and is amazing for consumers. It has to be an experience that they enjoy," she says.
Despite the initial success of its Argos tie-up, Lawler says eBay will not jump into another partnership because of concerns about service standards.
"It's a unique proposition with Argos because of their execution in stores. They really meet customers' needs," she says.
Ashworth says Collect+ sends follow-up emails to customers asking for feedback on their experience. 10,000 to 15,000 replies come in per week and the collection business drops stores if they do not address negative feedback.
"What's important is choice and what's right for [customers] in their day-to-day lives"

Tanya Lawler, eBay
However, it is notable that few luxury brands have adopted services such as Collect+ or rival Hermes' Parcelshop. However, that might change with the advent of a new breed of upmarket collection hubs. Collect+ has teamed up with shopping centre Westfield London to launch a collection area where shoppers can pick up, return and even try on their orders in a 'premium lounge area' with fitting rooms.
Partnerships such as these and indeed between retailer and retailer are an intriguing development. And Harding believes that eBay is on the right track with its Argos tie-up.
"We'll see more relationships with non-competing retailers leveraging each others' footprints," he says.
The prospect of high streets turning into a giant collection points has huge implications for home delivery.
Convenient home delivery
For many shoppers, including mothers and retired people, home delivery is still convenient – and for bulky items such as white goods and furniture, it is the most viable option. It can even form supplementary revenue streams for retailers such as Dixons, Ao.com and Argos, which all offer installation services.
It may also be preferred in rural areas, where customers who are not at home are often more comfortable leaving instructions for delivery drivers to drop items in a safe place such as the back garden.
However, it is clear that for the mass market, waiting at home for hours for a delivery to arrive does not represent excellent service.
The introduction of Sunday delivery could offer additional convenience.
Hermes and Parcelforce have already launched a service while DPD will follow suit next week. The Royal Mail will launch its own Sunday delivery trial service within the M25 this summer.
"It's been 20 years since retail stores started opening seven days a week. Delivery firms have a lot of catching up to do," says Ashworth.
Woodhead believes Sunday delivery will increase sales volumes. "Sunday gives people the option to, if they haven't found what they're looking for whilst out shopping on Saturday, order it online on Sunday," she says.
At House of Fraser, Harding has added guaranteed evening delivery to the retailer's arsenal of collection options and he says that has brought additional sales.
Scheduled delivery slots could be the answer, removing the need for shoppers to wait in, impatiently looking at their watches until the delivery driver calls.
Lawler says: "It is currently available, but only at a premium rate, and it can be quite broad brush on when deliveries will arrive. It can be within a half day."
At present, less than 2.5% of online orders are fulfilled using timed delivery, according to the IMRG MetaPackUK Delivery Index Report. The hefty price tag attached to such service is off-putting to consumers. Ashworth says consumer research shows that customers' top priorities in delivery service are cheapness and reliability. Convenience and speed are secondary considerations.
Lawler believes that if retailers could pinpoint more precise times at a price the customer is happy to pay, it would create a real point of difference.