Maternity specialist Mothercare, alarmed by a sudden drop in sales, has launched a restorative operational review. Gemma Goldfingle reports on the outlook for the retailer.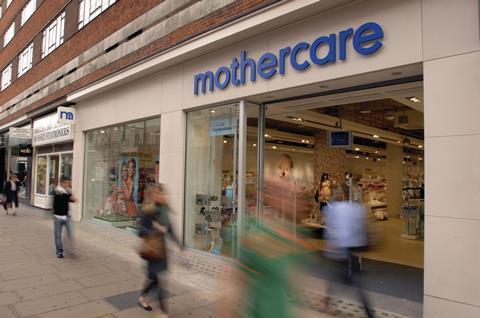 Mothercare chairman Alan Parker marked his first 100 days in the job acknowledging that something drastic must be done to stop the rot at its core UK business.
Last week, along with the revelation that the maternity specialist had slid into the red in the first half after UK like-for-like sales plummeted 7%, Parker declared the retailer would undertake a structural and operational review of its domestic business.
He is candid about the challenge. "We have to put our hands up, we've lost our way in Britain," he says. "My object is to restore and grow Mothercare. There are still growth opportunities in the UK and we're still opening stores."
Parker, who also assumed executive powers last week as chief executive Ben Gordon left, says the review will focus on five key areas: value, service, ecommerce, customer experience and making operational costs-savings.
Former glory
So will returning the maternity retailer back to its former glory be child's play or is there a long way to go before discipline is instilled?
Parker admits that a perception of poor value has contributed to Mothercare's sales decline, but believes its recently launched Price Promise will help reverse this. The retailer has started checking its competitor's prices on its top-50 branded lines daily to ensure it is not beaten on price.
Peel Hunt analyst John Stevenson said the Price Promise is "massively overdue" because the retailer has been struggling to compete with online competitors, such as Amazon, and supermarkets on price for some time.
However, Seymour Pierce analyst Kate Calvert believes it is a dangerous game to try to compete with Amazon on price – a game that Mothercare is destined to lose.
She maintains: "It doesn't have the size to compete with online or the supermarket groups. It doesn't have the product range to play the mix game and use other unrelated product categories to offset price competition in its core area."
However, Stevenson argues the retailer does not have to be the cheapest, but it does have to ensure greater perception of value among consumers.
He says: "John Lewis customers think it's good value, but if you look across online mothers' forums, Mothercare's clearly don't."
Although Mothercare's brand price match may improve its value credentials, it is likely to hit margins; management has already revised its full-year 2012 gross margin guidance, which is expected to be down 400 basis points from the 300 basis points advised previously. Price investment and promotional activity will account for 300 basis points of the full-year decline, analysts say.
Stevenson questions how the retailer, which already has a tight supply chain and direct sourcing, can offset the impact of price investment. He expects Mothercare to take the hit and thinks losses will widen initially.
Parker says that he anticipates the retailer will return to profitability in the next two years, but both Stevenson and Calvert believe it will take longer.
Calvert also believes it should be the in-store experience and advice on offer, rather than price, which differentiates Mothercare. Parker's review will address these critical areas and Mothercare has already unveiled plans to start services such as maternity bra-fitting and car-seat advice in-store.
Although Calvert believes service could provide a quick win for the retailer, she feels the new services detailed so far are not radical enough to differentiate the retailer from other specialist stores.
She believes Mothercare could set itself apart by becoming a hub for mothers and offering educational classes. Calvert says: "Mothercare has lost its modern-day relevance for mums. It needs to reinvent itself as a social networking brand at the heart of a mothers' community. There should be a coffee bar for mums and babies, with play areas and tablets to buy product while chatting to mates."
The right properties
Mothercare's property strategy, which has led to a general shift from the high street to out-of-town stores, could detract from a role as part of the community. Mothercare has committed to move its in-town Early Learning Centre, the children's toy retailer that it owns, into its larger stores.
"Current management are believers in out-of-town over the high street.
I am not convinced it's the right strategy. Should they not go where mothers meet?" says Calvert. "With petrol prices so high, do mothers want to drive out-of-town? A high street close to parking would be better."
Stevenson believes location is not an issue and points out that 90% of pregnant women go to a Mothercare store. "Its problem is it is not converting that into sales. Put simply that's because of price and offer," he says.
The retailer is already in the process of closing more than a quarter – 110 – of its UK stores over the next two years, most of which are on the high street. The change will add between £4m and £5m to profits each year.
Parker has ruled out further store closures as he aims to reduce operational costs, but Calvert thinks that more will occur. The Mothercare boss, however, says the portfolio plans already made public look sufficient: "We will restructure to fit the size of the rationalised business. We'll look at central support and distribution costs,"he says.
Calvert believes the retailer should not rely heavily on cost-cutting to transform the business. "It is unclear where material cost savings are likely to come from," she argues. "Any revitalisation of the UK business will be a brand repositioning and sales-led story, rather than a cost-cutting story."
Ecommerce is another area that Parker will review. In the first half, Mothercare's UK online sales fell by £5.7m to £62m. Parker put that down to the deflated home and travel category, which accounts for 75% of direct sales. Home and travel has suffered a double-digit decline industry-wide according to Stevenson.
Mothercare, which is abandoning the Amazon ecommerce platform it currently uses, is to relaunch its website next spring.
The retailer hired Jennifer Cherrington Mowat to lead its multichannel operation last month. Cherrington Mowat, who came from National Express, has previously been a director of Amazon UK.
Calvert believes that improvements can be made to Mothercare's "clunky" site and that more advice should be available on the site to enhance its role within the mothers' community.
Cherrington Mowat is not the only new addition to the Mothercare stable. Parker has pointed to recent recruits, including former Asda director Mike Logue who joined in August as UK director, as integral contributors of the turnaround.
Stevenson believes that Logue is the "right guy for the UK" and that his experience at Asda Living gives him a good insight into non-food and its competitive pricing.
However, both he and Calvert caution there will be no quick-fix to Mothercare's revival, which requires a brand repositioning in the UK.
Calvert believes Parker's review may not be radical enough to differentiate the UK business from rivals. "It needs to establish a clearly defined niche.
It hasn't gone far enough from what we've heard so far," she said.
She believes the retailer's strong financial base gives it a solid grounding for a turnaround, but action is needed quickly. "While it's faffing around trying to sort it out, you've got Kiddicare, with Morrison's firepower, rolling out its stores," she says Stevenson is confident that the retailer can transform its UK business. "It is in a better position than most," he argues. "It is a well-loved legacy brand. If [Mothercare] can get its pricing and offer right, it will be on the right track."
As he settles into a turnaround that will take more than 100 days, Parker is confident progress will be made. "In the next financial year we'll fully implement the changes," he says. "I'd be disappointed not to see improvements in performance in the next 18 months."
Home and abroad - Mothercare's business reach
With a thriving and growing international business, does Mothercare really need its struggling UK arm? The answer is yes, according to Seymour Pierce analyst Kate Calvert, who says its global buying and logistics infrastructure means international could not survive without the UK.
The analyst says despite soaring international sales, its franchise model limits returns: "They get a basic franchise fee. They went down that route and they can't change that now – it's in its third decade with its oldest franchise partners."
The retailer aims to offset its UK business with further international openings. Mothercare reiterated its plan to open a further 150 overseas stores in the current year and has just launched in South America after making its debut in Chile and Panama.
Opportunities also exist in the UK. Mothercare's wholesale revenues in this country rocketed 121% in the first half.
It has a tie-up with health and beauty specialist Boots – kids clothing range Mini-Club. Mothercare designs and produces the range which is sold in 389 Boots stores and online.
Mothercare has launched trials of Early Learning Centre toy ranges with Argos and Ocado, with a limited range launching over Christmas. Parker hopes the pilots will lead to more permanent tie-ups and wants to build that side of its business.