The Tata Consultancy Services Marketing or Advertising Campaign of the Year was awarded to DFS and its activity around 2016's Rio Olympic Games.

DFS might not have been the obvious retailer to strike a sponsorship deal with the British Olympic Association during Rio 2016. But by focusing on its shared credentials with Team GB – pride in 'quality made in Britain' – DFS created a "heartwarming", "well-executed" and "joined-up" advertising campaign that impressed the judges.
One member of the judging panel said: "It is an interesting campaign and I liked the attention to detail. I did remember seeing it quite a lot at the time and, when there is a lot going on during the Olympics, that takes some doing."
Brand story
A record-breaking campaign that beat DFS's "own high expectations", the objective was simple: highlight the rich brand story behind DFS, which has historically been overshadowed by its reliance on promotional advertising.
Working with agency Krow Communications, the retailer created a campaign that compared the story of its talented, skilled craftspeople who take pride in the product they create, with the dedication and hard work of Team GB.
"The campaign was based on four key themes: making 'great Brits' comfortable; two world-class teams producing quality results; celebrating the British competitive spirit; and British pride"
Running across TV, digital and outdoor digital platforms, the campaign was supported by social media hashtags #GreatBrits and #GameOn and a series of online films.
The campaign was based on four key themes: making 'great Brits' comfortable; two world-class teams producing quality results; celebrating the British competitive spirit; and British pride.
Medal hopefuls gymnast Max Whitlock, swimmer Adam Peaty and cyclist Laura Kenny (then Trott) were chosen as key ambassadors for their down-to-earth and relatable appeal, and to highlight that behind every great athlete is a place called home.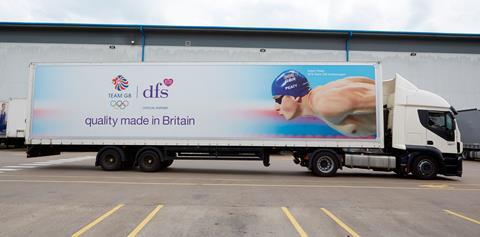 Building on the message, DFS created the Britannia sofa to showcase the best in British design and manufacturing. The sofa then furnished the athletes' accommodation in Rio.
One judge said: "I think DFS has turned something that felt tenuous into something really powerful and that feels very joined up. It actually would have changed my perception."
Indeed, it had a dramatic impact on the public's perception of the retailer, prompting a big increase in people regarding DFS as selling a high-quality product – the retailer's key campaign objective – and an impressive increase in positive sentiment overall.
Its 'brand love' score rose and trust leapt, while belief in DFS having a good reputation also jumped.
The campaign's content – which also included daily interviews with athletes, real-time digital outdoor work to celebrate the successes of its ambassadors and a coaster flipping game called #flipit – was viewed 17.5 million times across all channels.
Its view-through rate smashed the industry average and email open rates were three times higher than average for a DFS campaign and boosted revenue.
The retailer predicts strong long-term return on investment from the campaign.
'Ballsy' decision
One judge described the sponsorship decision as ballsy. Another added: "I liked the honesty. It faced into it straight away – 'we were seen as the oddball choice, an eccentric partner'.
"Nevertheless, it found a connection that worked and the results look impressive."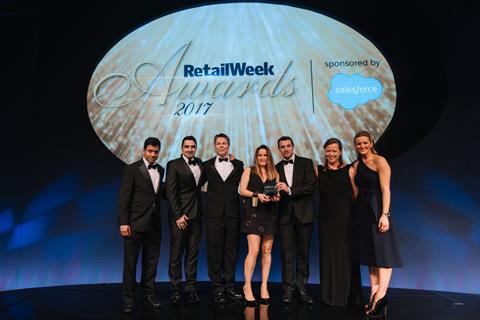 Mark of Excellence: Waitrose
Grocer Waitrose was awarded a mark of excellence for a campaign that played well to its reputation for quality food.
In a food retail first, the 'Everything we do goes into everything you taste' campaign included TV ads filmed on the day of broadcast at Waitrose farms.
Ads eschewed music and voiceovers to put animals, nature and food centre stage. One was even 'shot' by a cow using a GoPro.
The judges were impressed by the initiative which highlighted strengths such as provenance and was a great success according to marketing industry metrics shared by the retailer.
Tata Consultancy Services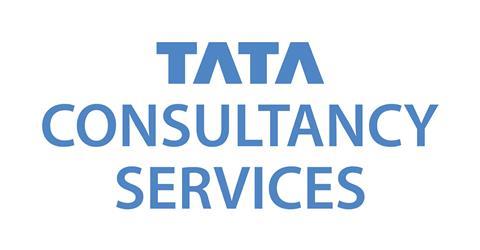 Tata Consultancy Services (TCS) is a global leader in IT services, digital and business solutions that partners with its clients to simplify, strengthen and transform their businesses.
We ensure the highest levels of certainty and satisfaction through a deep-set commitment to our clients, comprehensive industry expertise and a global network of innovation and delivery centres.
TCS has been recognised by Brand Finance as one of the Big 4 Global IT Services Brands. Our continued industry-leading growth is a testament to the certainty our clients experience every day. Tcs.com