This week, Londoners might have noticed the skyline either blighted or enhanced - depending on their perspective - by a mobile giant yellow pepper.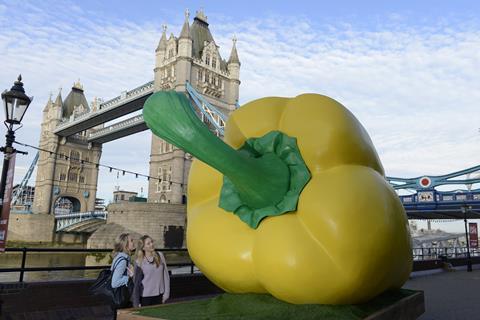 The brightly coloured piece of veg was taken on a tour around London to mark Morrisons' first grocery deliveries across north London.
Taking in two million households, the delivery catchment area from Ealing to Essex, and from the Thames, north to Cheshunt and Potters Bar, gives Morrisons an operating area of 1,297 sq km across London.
The yellow pepper, which was intended to draw attention to the expanded coverage area, stopped at famous landmarks including Big Ben and Tower Bridge. The pepper concept ties into the public's on-going fervour for sharing and talking on social networking sites.
Morrisons has made the most of people's reactions, posting a video on its social networking profiles documenting the travels of the pepper.
The #spotthepepper hashtag has also generated plenty of excitement from morning joggers and the like who saw the pepper.
Morrisons digital marketing director Amanda Metcalfe said: "As we move into London, one of our major points of difference is our attention to detail with fresh food – we dress our mangoes in socks, bubble wrap our bananas and let our customers check the produce on the doorstep before they accept it."
She added: "We were thrilled to see so many customers engaging with our activity, especially via our social media channels where a great deal of people shared photos of themselves with the giant yellow pepper."
The travelling pepper may have been a gimmick but one that worked no less, judging by its popularity on social media.