Wine specialist Laithwaites relaunched its website on Monday after recording like-for-like sales ahead 6.4% in December.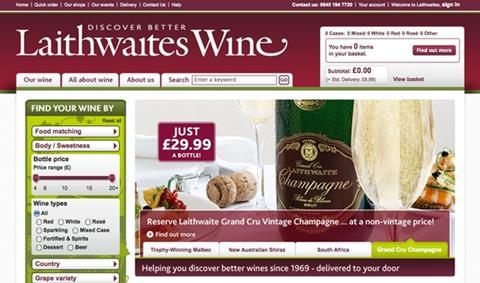 The new site - which forms the majority of the retailer's sales alongside its 10 shops - has been designed to be more interactive. It will allow shoppers to rate and review wines and Laithwaites will also step up activity on social networking sites Twitter and Facebook, and will launch an iPhone app in September.
Commercial director Robert McCarthy said: "This is the year of online for Laithwaites and the relaunched site is just the first phase. We will offer better account management and customers will be able to chat on the site. It's a great opportunity to talk to customers."
Laithwaites' 11th shop will open next month at wine attraction Vinopolis in London. McCarthy said the 5,000 sq ft shop will house what the retailer believes to be the longest wine-tasting table in the world, at 14.5 metres long. "It will be a great flagship store for us, both in terms of brand building and also to host events."
McCarthy said the outlook for 2010 remains challenging but added: "High street off licence retailing has proved to be difficult with the collapse of First Quench but we are a niche operator and offer wines that shoppers won't find anywhere else."
Technology firm Bazaarvoice will implement Laithwaites' ratings and reviews section.