Karen Millen, the womenswear fashion retailer, is focused on overseas expansion and ecommerce growth for the upcoming years.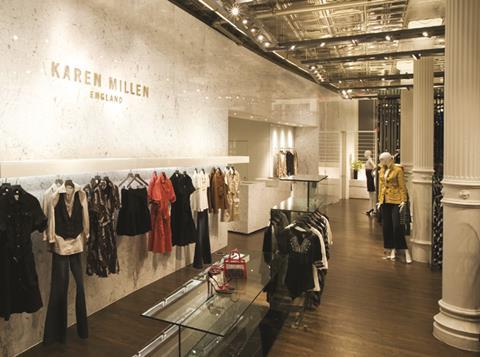 The Karen Millen name started with just £100 when its eponymous founder made her initial investment in the fledgling business, but it is now a prized global asset.
The rapid development of Millen's shirt business,which she founded in 1981 along with her former husband Kevin Stanford, into an international retailer synonymous with premium womenswear has proved a turbulent and fascinating journey.
Millen sold the business in 2004 and in 2012 dispute loomed with the retailer's owner Kaupthing Bank. The row tops off an unsettled few years for the company.
Millen and Stanford considered taking legal action against Kaupthing after reportedly losing nearly 7% interest in Mosaic, since reborn as Aurora, following the administration of its former owner, Icelandic investment group Baugur, in 2009.
Baugur's acquisition of Karen Millen for £120m in June 2004 typified a period in which Icelandic investment in UK retail grew to a crescendo before crashing after the onset of the global economic crisis in 2008.
In 2005 Baugur created Mosaic Fashions to house Karen Millen alongside sister womenswear fascias Oasis, Coast and Warehouse. In February 2009 debt-laden Baugur went bust, taking Mosaic down with it.
Mosaic subsequently resurfaced as Aurora, majority owned by Kaupthing and Mosaic's former management team. In 2011, Karen Millen was spun off into an independent company as its global expansion plans meant that it needed different funding requirements from the rest of the group. The brand secured additional debt facilities in the process.
There has been speculation that separating Karen Millen could lead to a sale of the retailer, and a potential option could be a management buyout by Aurora chief executive Mike Shearwood.
Despite the rollercoaster ride, the fashion retailer has enjoyed a relatively stable decade financially. Steady growth in the early 2000s built the business from £50m turnover in 2000 to £87m by 2005.
Growth slowed as the recession hit even those wanting premium clothing but profits have remained in positive territory. The retailer reported pre-tax profits of £11.5m in the year to February 2012, down from £14.3m the previous year, and sales reached £147.9m.
Karen Millen has become an attractive proposition as its international arm has grown. From concessions in Bloomingdale's in New York to stores across Europe and the Middle East, the retailer's reach has extended rapidly.
Its premium proposition has enticed shoppers from Latvia to Lebanon and its overseas division has become larger than the domestic operation with 274 stores in 47 countries. The retailer last year created the new positions of
global retail operations director and European retail director to support growth.
In the UK, the retailer has contracted, shuttering a handful of shops to take the store count down to 83, including a raft of concessions such as 25 in House of Fraser.
Karen Millen did dip its toe into a new market through the launch of a standalone accessories store in Bath in 2010 but ditched the pilot in October last year, opting instead to expand its accessories offer via concessions.
Joint managing directors Gemma Metheringham and Steve Price have focused UK growth on developing Karen Millen's burgeoning ecommerce operation. Online sales account for about 17% of turnover.
In-store staff were equipped with iPads last year to give them access to more product information and mobile point-of-sale systems. The retailer appointed former All Saints ecommerce director Lynn Ritson in 2011 to support the etail expansion project.
According to Retail Week Knowledge Bank, maintaining consumer demand for the Karen Millen brand will be vital to increasing sales.
It says: "The key will be the extended management team's abilities and resultant success in sustaining the particular cachet of the iconic Karen Millen brand on an international scale, creating wider customer acceptance in expanding new markets, while not alienating an existing and loyal customer base."
At a glance
Executive chairman Derek Lovelock
Joint managing directors Gemma Metheringham and Steve Price
Turnover £147.9m (year to Feb 2012)
Profit £11.5m, pre-tax
Owner Kaupthing Bank owns a 91% stake; management 9%