Tackling the plastic problem was the theme of John Lewis Partnership's latest JLAB innovation programme. We profile the start-ups it believes can help fix it.
John Lewis Partnership has selected four businesses that specialise in reducing plastic waste to join its JLAB innovation scheme.
More than 100 businesses submitted ideas that could help John Lewis and Waitrose reduce plastic waste and, following a pitch day last week, the partnership settled on four companies that focus on reusing and reducing food, liquid and postal packaging.
JLAB will now give these companies access to expert advice from within John Lewis Partnership, customer panels and data, a chance to launch trials and pilots and possible financial investment.
Retail Week looks into what the start-ups do.
CupClub
CupClub is a returnable packaging service that helps retailers reduce single-use plastic packaging by providing trackable cups that use RFID technology.
John Lewis Partnership has decided to trial the service.
CupClub delivers recyclable cups, which retailers can then serve as normal to consumers. When finished, shoppers can deposit the cup in drop-off points, which can be situated both within stores but also across cities. CupClub then collects the empty cups, washes and returns them to the business.
To make things more sustainable, fresh cups are dropped off at the same time that used cups are collected. The washing of cups is also optimised to ensure the minimum amount of water is used to clean them.
The cups are designed for 132 uses and last for approximately six months.
Founder Safia Qureshi, an architect, designer and environmentalist, says the scheme is a step-up from disposable cups as its service uses half the CO2 of both disposable and ceramic cups, including polyethylene(PE)-coated cups, styrofoam and compostable polylactic (PLA) cups.
In terms of cost, CupClub cups come in at 15p, the same as a disposable PE-coated cup, and 12p less than a PLA cup.
CupClub launched to the public in April with property agent Cushman & Wakefield its first client. It won the 2017 Ellen MacArthur Foundation's New Plastics Economy Innovation Prize.
RePack
Finnish start-up Repack is a reusable and returnable ecommerce mail packaging service.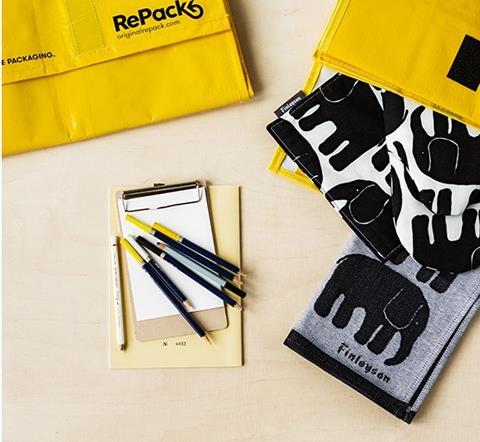 The business provides packaging in three adjustable sizes that last for a least 20 deliveries. The packages are designed to fold to letter size when empty and are made of durable and recycled materials.
RePack already works with 40 retailers across 10 countries and is targeting online partners in Europe.
Its existing retail partners tend to offer RePack as an option for consumers at checkout, who pay a small deposit for the parcel.
The parcel carries clear instructions for shoppers on how to return it. It can be posted back to RePack – free of charge to the consumer – and the company then checks, cleans and redistributes it back to the retailer.
RePack also acts as a rewards scheme. When the customer returns the packaging, they are emailed a reward or incentive to shop again at the retailer.
John Lewis Partnership is exploring how it could work with the company.
Cuantec
Cuantec aims to tackle both food waste and plastic pollution.
It takes fishing industry waste materials, such as langoustine shells, and biologically obtains a natural biopolymer, chitin, which is turned into a flexible compostable, antimicrobial film. That film can then be used for food packaging.
The antimicrobial nature of the film gives protection against all of the main pathogens and food spoilage organisms including e.coli, salmonella, vibrio, listeria and lactic acid bacteria, yeasts and moulds. This extends the shelf life of fresh food and could help reduce 10% of food waste in stores.
Cuantec is seeking to work with partners and bring the product into circulation. John Lewis Partnership is exploring how it could work with the company.
Replenish
Replenish creates reusable and refillable bottles for liquid concentrates.
The business claims that many products consumers buy - such as cleaning sprays - are 90% water, with only a small amount of active ingredients.
Despite already having water in our homes, these water-laden products are packaged and shipped in disposable bottles, which are often used once and thrown away.
Instead, Replenish promotes the sale and distribution of concentrate refill pods, which are mixed by the consumer in the reused bottles. John Lewis Partnership is exploring how it could work with the company.