John Lewis benefitted from half term footfall, as demand for products aimed at children helped drive a sales rise of 7.3% in the week to February 22.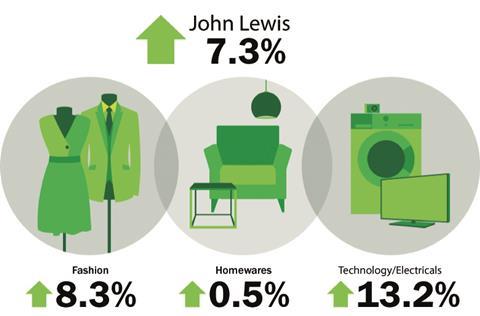 The retailer said that footfall was slightly up during the week. Kidswear, toys and craft sales were heavily influenced by half term and the release of the Lego Movie led to a 80% uplift for items related to the film and a 50% increase in Lego sales. Online continued to thrive with sales up 29.1%, driven by fashion, which soared 45.2%.
Across the retailer, fashion sales jumped 8.3%. Newness was a key driver in sales increases for womenswear, up 13.6%.
Sales at its home division edged up 0.5%. Living and Dining, and Beds and Bedroom also had double-digit growth on the year.
Electricals and home technology was John Lewis' best performing division, up 13.2% with double-digit growth in most areas.
John Lewis operations director Dino Rocos said: "The week provided a great end to the first trading period of the year, putting us in a good position for the year to come.
"New product is arriving daily, providing that pop of colour and intrigue to brighten our customers' days. As the clouds begin to part and we see that glimmer of sunshine, we know that spring is truly on its way and judging by this week, we are perfectly set for it."
Meanwhile, half term also helped John Lewis Partnership owned Waitrose sales increase 5.3%.
Online sales had a "fantastic week", rocketing 87.5% year-on-year as busy families turned to the internet to order their groceries during the school break.
Waitrose commercial director Mark Williamson said that sporting events also helped to boost sales
He said: "Last week was a real feast for sports fans with the Winter Olympics and the third round of the Six Nations Rugby Championship driving sales on. World Beers sales leapt by 12% while fresh pizzas and Indian ready meals really spiced up as sales grew by more than 20% compared to the same period last year."
However, healthy eating still features in customers' plans with sales of Waitrose's 'Love life you count' range of calorie-conscious ready meals up by 63% year on year.
Nutritious snacks also performed well with walnuts up 63%, brazil nuts up 20% and cashews and mixed nuts both up 42%.
The popularity of superfood kale also continues to grow, with Waitrose now selling more than 10 tonnes a week, na 80% increase on last year.
Spring cleaning rituals also appeared to start in earnest, resulting in a 10.6% uplift on sales of household cleaning products. Kitchen cleaners were up 82% and products to spruce up the bathroom rose 43%.