Struggling sportswear retailer JJB is aiming to target women as part of its turnaround plan as its losses widen further.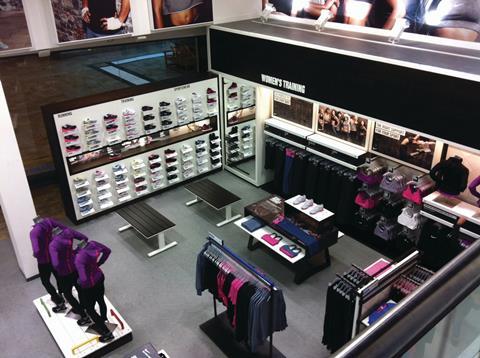 The retailer, which narrowly escaped administration earlier this year, launched a clothing 'fitness hub' for women within its Trafford Centre store last week and has debuted women's fitness classes in-store, in conjunction with Nike. It plans to roll out the concept to more stores and has partnered with Reebok, which has also revitalised its womenswear offer.
JJB chief executive Keith Jones said: "We're broadening the ranges and services we offer for women. It's an under-served market that we're looking to take advantage of."
The embattled chain suffered a slump in interim profits and poor second-quarter trading forced it to re-budget.
The retailer said if current punishing trading conditions continued its full-year results would be worse than its modified budget.
Finance director Dave Williams said its margins had been hit by clearing obsolete stock at below cost-price.
Williams blamed the "poor, over-buying" by its former buying team. The retailer said the buying problems had now been rectified.
Since the period end, JJB has beaten its modified budget for August and September but said that sales performance had deteriorated since the second half of September.
Jones said the economic headwinds JJB was facing were "not helpful" but he believed they would not derail the turnaround, which he said would take between three to five years.
The retailer is also looking to improve performance in its struggling football division and has hired Kitbag managing director Ray Evans to lead the category. JJB's like-for-like drop, which was 17.7%, would have been cut to 5.5% for the period without the negative impact of the category.
Jones said: "Our [football] offer isn't different enough. We'll be looking to bring in exclusive products. Ray joins us in good time to take advantage of Europe 2012, which is going to be really important for every sports retailer."
However, Seymour Pierce analyst Freddie George believes the retailer is running out of time to turn itself around.
George said: "It needs to find a clear niche and a format that is differentiated from its competitors to take advantage of forthcoming sporting events."
JJB has closed all but two of the 43 stores it was given the go-ahead to shed in the CVA it conducted earlier this year.
JJB in numbers
Half-year figures to July 31
Revenue Down 22.6% to £142.4m
Like-for-like sales Down 17.7%
Gross margin Down 6.4 points to 35.8%
Operating loss Down 175.2% to £67.7m
Adjusted operating loss before tax Down 62.1% to £35.5m
Store closures 49